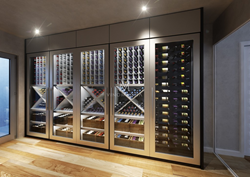 Wine storage has gained considerable reinvention since the catacombs of Edgar Allen Poe, no longer must we walk in darkness in the underground caves to age our favourite drink.
London (PRWEB UK) 28 April 2016
Throughout the centuries wine has been looked at in both literature and life, as a liquid of ritual. Binding together participants of births, deaths and anniversaries this nectar of the gods is not merely the fermented juice of grapes. For those of the community considering one's self to be "connoisseurs", storage of wine can be just as important as the consumption.
Wine storage has gained considerable reinvention since the catacombs of Edgar Allen Poe, no longer must one walk in darkness in the underground caves to age this favourite drink. Today, a custom wine cellar can be both functional and architecturally driven.
Traditionally, wine cellars have been built in basements to aid in temperature control for preservation. This crude method offers no stability to a collection; furthermore one simply cannot be drunk lurking in a dungeon. If "wine comes in at the mouth and love comes in at the eye", then a climate controlled custom wine display seeks to advocate such legend. In an (all be it) a slightly inebriated moment, the custom design team dreamt up this recent custom wine display project.
This home custom wine cellar display was designed for a client whose knowledge in the wine process far surpasses an average wine collector. Coming from a family of vineyard owners and collectors of vintage wine the client had a clear vision of what was desired and the bottle arrangement requirements in this custom wine cellar display.
As this project was a retro fit and no mains water was available thus a low level manual top up humidifier was incorporated to aid with any low humidity issues. In a sealed basement display such as this, with double glazing and rubber gasket sealed doors the necessity of a humidifier isn't normally so but having a manual top system where no mains water is available is a low cost worth while investment. This project was completely pre assembled in the factory in sections capable of transporting it and fitting it through the property access meaning the team were able to install it in just one day.
The desire to store wine for aging can be financially rewarding and gratifying on the taste buds, however there are rules that even this modern wine cellar must adhere to. Darkness, wine is best stored away from light, however wine storage can incorporate LED lighting which does not effect the aging process while adding to a wine display.
Also, wine should be stored on the side so that the cork does not dry out, custom humidification in all Vinomagna bespoke wine cellars will help to maintain moisture in the air and aid in preventing corking. For a further look at more climate controlled wine cellars, click here.