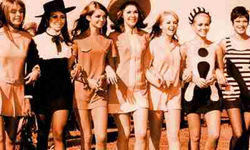 Be open minded and prepared to make alteration for your vintage clothing so that it fits you the best. Try to mix the vintage clothes with new contemporary clothing
Los Angeles, CA (PRWEB) December 16, 2014
The Vintage Clothing, a website that connects shoppers to sophisticated clothing and style inspiration from the 1950s to 1990s, recently announced its launch. The site, which specializes in scouting for vintage dresses, outerwear, tops, bottoms, footwear, underwear, and accessories, features clothing from popular sites such as NastyGal and Modcloth.
At this time, The Vintage Clothing features over 100 pieces of garments inspired by decades past. From retro and swing dresses to flared jeans, slips and statement watches, The Vintage Clothing shares all of its finds with its readers. The Vintage Clothing also contains hair inspiration, helping its visitors attain their ultimate style goals.
According to The Vintage Clothing's style experts, shopping for vintage clothing is a great experience, especially because buyers can find high quality vintage items that are no longer made today. Many vintage pieces stand out for their handwork, details, and durability, and some eras are great for certain body parts. For example, the 1930s emphasizes diagonal and straight cuts, which suit slim and tall women, while styles from the 1940s are better for curvy women since the clothes are defined at the waist.
When shopping for vintage clothing, The Vintage Clothing recommends feeling the fabric to ensure its sturdiness. Over time, the fabric of vintage pieces can become fragile and be susceptible to insect damage. Additionally, shoppers should be aware of stains, odors, and tears in the garments, and keep in mind that sizing has changed over the decades so their personal measurements must be kept in mind.
"Vintage clothing can be found in numerous places such as specific vintage clothing stores, online sites, garage sales, thrifty stores or even from your own family," stated an article available on The Vintage Clothing. "Be open minded and prepared to make alteration for your vintage clothing so that it fits you the best. Try to mix the vintage clothes with new contemporary clothing."
Individuals interested in learning more about The Vintage Clothing and its work can visit the website for additional information.
About The Vintage Clothing:
The Vintage Clothing is a new website that offers its clients a huge amount of vintage and retro clothing (dresses, jackets, pants, skirts, etc.). The website is constantly updating with new material for its readers, and will soon add a rating system, newsletters submission, RSS feeds and more. For more information, please visit http://thevintageclothing.com