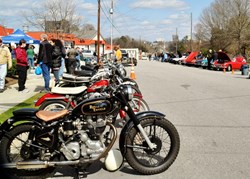 Ray Price Vintage Day on Feb. 22 features a cruise-in for classic cars and vintage motorcycles.
Raleigh, N.C. (PRWEB) January 29, 2014
It won't be long until summer cruisin' kicks in. For those who yearn to get out and enjoy their classic cars, or are just nostalgic for a good winter cruise-in, it's time to polish the chrome on your vintage motorcycles and automobiles and join the fun for Ray Price Vintage Day. This classic car and vintage bike show will be held Saturday, February 22, 2014, from 10 a.m. to 2 p.m. at Ray Price Harley-Davidson and Ray Price Triumph. The event will include live music, food trucks and also feature the Ray Price Capital City Swap Meet. Attending this family friendly event is free and fun for all ages.
"This is our second annual Vintage Day event, so everyone can expect to see some great classics. This year we're hosting a cruise-in for both classic cars and vintage bikes," said Kris Weiss of Ray Price Harley-Davidson and Ray Price Triumph. "Come join your friends for an enjoyable day paying tribute to the classics. And for those in the process of building or customizing their motorcycle, the parts swap meet could be the place to find the perfect accessory or that rare part."
Individuals and businesses interested in buying, selling and trading new, used, and rare motorcycle parts are encouraged to reserve their space for the Capital City Swap Meet that day. Many customizing experts will be on-hand to showcase the latest trends, and all bike accessory and parts suppliers are invited to participate.
Vintage Day also welcomes all makes and models of classic bikes and modern-retro bikes to participate. The nonprofit Ton Up N.C. Motorcycle Club will be on-hand to showcase their latest restorations and talk about riding, restoring and racing vintage motorcycles. Expect to see many different makes and models, from Triumph and Norton to BSA, among many others.
Activities begin at 10 a.m. with live music from Beatles tribute band, Rubber Soul. Awards will be presented for First, Second and Third Place winners in a variety of classes.
What: Ray Price Triumph Vintage Day: Bike and Car Show
When: Saturday, February 22, 2014. 10 a.m. to 2 p.m.
Where: Ray Price Harley-Davidson and Ray Price Triumph: 1126 S. Saunders St., Raleigh, NC
Sign-up: Kris Weiss, (919) 832-2261, Kris(at)RayPrice(dot)com
Cost: Free to attend and cruise-in; small registration fee to sell at swap meet
For more than 30 years, Ray Price Harley-Davidson and Ray Price Triumph in Raleigh, N.C. has served as the Southeast's premier motorcycle dealership. Staff holds 950 years of combined riding experience to provide award-winning customer service and education programs for beginners-to-expert riders. Best known as home to motorcycle racing legend and hall-of-famer Ray Price, the dealership's commitment to philanthropy benefits many local nonprofits. This past December, the dealership and Raleigh H.O.G. (Harley Owners Group) donated 80 bicycles and $2,500 to Toys for Tots. Ray Price is also responsible for hosting North Carolina's first Iron Elite celebration of African-American bike culture. And is host to North Carolina's largest downtown motorcycle rally, Capital City Bikefest, which celebrates its 10th anniversary this September.