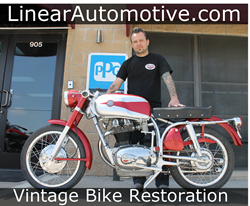 With all the talent in our shop, it was only a matter of time before we expanded to form the Motorcycle Division.
Dallas, TX (PRWEB) March 24, 2014
Linear Automotive is proud to announce the new Motorcycle Division. One of the new offerings from the new department is restoring vintage motorcycles. Many of the team members at Linear own bikes and really enjoy fixing them up, and some of the staff specializes in restoring vintage motorcycles. Many of the bikes are taken to be seen at local bike shows, rallies, and contests, so it was only natural to offer this service to the public. For more info visit LinearAutomotive.com
Owner Joel Ozbun quoted "With all the talent in our shop it was only a matter of time before we expanded to form the Motorcycle Division. Having gifted staff members with bikes featured in contests, shows, and being featured on popular magazine covers, it made sense to share that expertise with other motorcycle enthusiasts."
Anyone who has been thinking about restoring an old classic motorcycle should visit LinearAutomotive.com. Before getting started on a project like this a few important things to consider is time, money, and commitment. According to VintageMotorcycleRestoration.com to build and restore a vintage motorcycle is a lot of work requiring the right knowledge, tools, and adequate space to get things done correctly.
Be sure to ask about the Total Restoration Service which is perfect for any restoration project. This option entails a thorough inspection, complete repainting, polishing, upgrading, and repairing or replacing all necessary parts and components so the bike runs, sounds, and rides like new again.
Vintage motorcycle frames could be in any kind of condition, meaning close inspection is important. This process begins by stripping the bike down to a bare frame so every piece can be carefully examined. The frames structural integrity is tested and any abnormalities are addressed.
Any number of things could be wrong with a vintage motorcycle electrical system. The electrical system is studied to ensure every wire conducts and carries current according to specs. Anything below the standard is repaired or replaced, depending on what the situation calls for.
Vintage Motorcycle Engine repair & replacement is provided. Transmissions are stripped down, inspected, and rebuilt according to specifications to achieve top performance. Boring, head work, crankshafts, seats, valves, rods, rings, pistons, and cams are all handled with precision and accuracy.
Adjusting the valves in a 4 stroke engine is usually needed to get a vintage motorcycle running good again. Cutting the valve seat is a lost art that should most likely left up to the professionals. Some 2 stroke engines will require oversized pistons, rings, clips, and wrist pins along with boring the cylinder so everything runs like new again.
Both 4 stroke & 2 stroke vintage motorcycle engine rebuilding is provided. Cylinder porting, head rebuilds, re-plating cylinders, head modifications, and general repairs are all offered.
Vintage motorcycle gas tanks are checked for leaks, corrosion, and rust. Once everything in the tank is addressed it is cleaned and sealed. Carburetors and fuel lines are inspected and cleaned or rebuilt for optimum efficiency.
A vintage motorcycle brake system consists of many things like calipers, rotors, brake pads, master cylinders, and controls which are all rebuilt and tested for proper stopping power and safety. Every piece of hardware is refurbished or replaced like pins, nuts, bolts, and screws. Front forks and steering systems are checked and bearings are replaced or repacked if they are good enough to keep.
The custom vintage motorcycle paint service is exceptional. Each and every vintage motorcycle body part is inspected along every contour and curve to reproduce the bikes original look. After all the body parts have completed the body work phase they are sent to the paint booth. An Italian style down draft system is used in conjunction with a heated system that bakes the paint on to produce a showroom finish every time.
Every chrome part is re-chromed or Cad plated. Aluminum parts are shined up and polished to look like new again. Seats get recovered to restore the original look and most often new foam is inserted for a comfortable ride.
The Motorcycle Division uses strict safety standards to ensure the best services and operation of each & every vintage motorcycle restoration project. For more information about antique restoration, call 972-633-2201 or visit the Linear Automotive.com website.