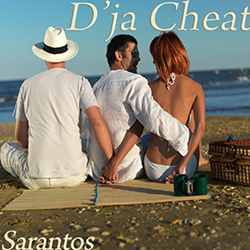 I don't think there's anything wrong with hard rock music! It's so misunderstood. Some of the nicest people I've met are in this genre.
Park Ridge, IL (PRWEB) August 09, 2016
Sarantos Releases a Cool New Hard Rock Music Video For "D'ja Cheat" With A Scintillating Story Featuring A Vintage Car, Drone Footage and Casino Gambling.
Hard rock is probably the most misunderstood music genre. Fans are sometimes surprised to find out that Sarantos music reviews very often find a correlation to hard rock bands like Queen, Pink Floyd, Led Zepplin and Fall Out Boy. There is a driving guitar and powerful drum style that is there if one listens intently. On this specific song, D'ja Cheat, Sarantos goes deep into metal/hard rock territory even approaching a vibe like Metallica. People like different genres for different reasons. Some say its a primal instinct. Sarantos continues to not stay in one stream of sound and this song shows fully the experimentation that continues to be evident to followers. Songs don't all sound the same. Fans don't know what to expect next. This song challenges the listener. It is not safe like some of Sarantos other catchy pop flavored songs. This song is loud and confronting, and the subject matter is not something most want to discuss let alone analyze. It's not just noise. There is a purpose and a reason for everything on this song, and music video.
Not all rock music is metal. Metal and hard rock music is very misunderstood. It is not barbaric. It is not against religion. It does not promote Satanism. It does not encourage crime. It is not sexist. It is not just screaming. It is not simple. Hard rock gets a bad rap. It is misunderstood even amnong musicians. D'ja Cheat might not climb the charts but it remains one of Sarantos favorite songs because it is raw and passionate. Sarantos champions the rockers out there who might never get the respect or appreciation of music critics but they should. Hard rock and metal have many subgenres within them. Some hard rock bands write music and lyrics that suck. But you see that in every genre of music, right?
"This video is about gambling, jealousy and cheating," says Sarantos. "The drone footage and vintage cars were so beautiful but the real highlight of the video are the music and lyrics themselves. The story takes center stage. Although this song veers off the pop rock genre, I love trying extremes and even different genres well beyond my comfort level. I can tell my fans that I'm of Christian faith, not in any cults, not a devil worshipper and yet, I love the music as it fits this song. I love rock! I don't think there's anything wrong with hard rock music! It's so misunderstood. Some of the nicest people I've met are in this genre. You really shouldn't judge a book by its cover."
33% of any music-related sales profits from this song are going straight to Alliance for Aging Research. They are the leading nonprofit organization dedicated to accelerating the pace of scientific discoveries and their application to vastly improve the universal human experience of aging and health. Advances in research help people live longer, happier, more productive lives and reduce health care costs over the long term and that access to the latest scientific information empowers people to take control of their health.
Sarantos' unique sound has been best described by industry insiders as an "emotionally powerful vocal style masterfully united with music that is a fusion of classic '80s rock blended with modern soft rock and pop music."
Since 2014, Sarantos has won over 30 awards with Akademia LA Music and Beat 100, while also being nominated for the International Music & Entertainment Awards and the Hollywood Songwriting Awards. Even without ever using a professional music studio, label, ad agency or radio promoters, two songs "Dreamer" & "What If I Never See You Again" have spent many months in the top 200 on the majors list in the US for radio airplay, according to the Digital Radio Tracker Top 200 charts. On the independent charts, Sarantos has hit the top 10 twice.
*Because Sarantos wants music shared throughout the world, fans can always find all songs, lyric sheets, videos and books on the website. Sarantos openly gives everyone the right to share song MP3s with anyone via email or any social media platforms.
Fans can sign up for the email list to get the inside scoop first and exclusive content available nowhere else.
Facebook:
https://www.facebook.com/Sarantosmelogia
iTunes & Apple Connect:
http://bit.ly/SarantosAppleStore
Spotify: