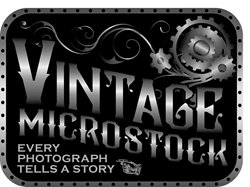 "It's important work, and we support it enthusiastically!" Jim Chabin President Advanced Image Society
Kansas City, MO (PRWEB) August 04, 2015
Bryan Penrod and Geoffrey Arbuckle, curators of Vintage Microstock's vast collection of rare photographs, negatives and prints, have developed a pricing framework for image download and use that dramatically reforms traditional stock library rules and restrictions and "removes the shackles" that have kept similar collections from widespread enjoyment and use.
"We believe collections like this should not be held hostage from widespread public consumption or ransomed for licensing fees, restrictions on how they might be used or limits on the time period during which they can be used," reasons Penrod, President of Vintage Microstock. "This entire collection, and future collections that we will acquire, will be digitized, enriched with meta-data and made available for download to all peoples around the world without these limiting measures."
The Vintage Microstock collection includes over one million original prints, negatives, and photographs spanning virtually every era of photographic history. Images include the famous, the infamous, the populous, world events experienced by all, private moments experienced by few, urban scapes, rural scapes and more.
To help bring this rare photographic archive to the public, Vintage Microstock has launched a KickStarter campaign, https://www.kickstarter.com/projects/vintagemicrostock/vintage-microstock-millions-of-never-before-seen-p , to raise funds to complete the cataloging, digitizing, and archiving of the massive collection.
"We're going to make it easier to search and find images, to download them, and to learn more about them in the process, through their stories," says Penrod.
The archive images vary from 300dpi to more than 1200dpi in resolution. No retouching techniques have been used on the images. The collection is being digitized in the same condition in which the images were originally created, preserving much of the authenticity with which every photograph was originally captured.
Penrod and Arbuckle also have developed a "wiki-style" Story Teller Tool that allows website visitors to contribute their own unique stories and experiences to the photo collection, unlocking valuable insight behind every downloadable image. Jim Chabin, President of the Los Angeles-based Advanced Image Society, considers the Vintage Microstock project a historically relevant undertaking.
"It's important work, and we support it enthusiastically,' offered Chabin. "If we are going to build the movies and the images of the future digitally, we have to take very careful care of the images of our past. "
Gary Watson, President of http://www.gwatson4x5.com shares Chabin's excitement, "I truly believe photography is a form of time machine. To see a collection as amazing as this…it's just a window into our past."
Vintage Microstock will make the rare collection available to the general public, including all media publishers, web developers, television studios, collectors, hobbyists, archivists, as well as any other entities that wish to experience these rare, insightful glimpses of history.