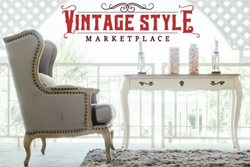 Our customers are our number one focus!
Flagler Beach, FL (PRWEB) November 01, 2016
After serving nearly 8 years in the United States Military, Owner and CEO of Vintage Style Marketplace, Jordan Capela, takes the entrepreneurial path and hits the ground running offering elegant vintage style furniture, lighting, home decor and much more to the marketplace. After several months of hard work, dedication and determination Jordan and his wife Brooklyn have launched their company in a big way. "Our customers are our number one focus," stated the CEO. One of the biggest obstacles consumers face online is the cost to ship their purchased items. As one could imagine, shipping furniture can come with a hefty price tag. "We want to be able to serve our customer base in a big way. Seeing how we could not possibly just give furniture away, the least we could do is send it to them on the house. No shipping costs on any of the items we offer," explained Capela. Free shipping is a big deal to a lot of consumers. It can be the difference between clicking the check out button or leaving the shopping cart abandoned.
Vintagestylemarketplace.com offers a chic and trendy collection of vintage styled pieces for each room in your home. On their beautifully designed and easy to navigate website, you will find several categories concentrating in the living room, bedroom, kitchen, bathroom and outdoor living spaces. "Right now we have roughly 800 products from approximately 10 different vendors," explained Jordan. "We are in discussion with several more and hope to add another 800-1000 products to our store by the end of the year," he continued. Though they may not have thousands of products, what they do offer is absolutely stunning and is guaranteed to add character to any space in your home. With inspiration from their current pregnancy, Jordan and Brooklyn hinted at a new category release come spring time!
One thing is certain, even though Jordan and Brooklyn are in the middle of leaving active duty military and are expecting a newborn in December, they show no signs of slowing down. Vintage Style Marketplace is here to stay and will deliver millions of magnificent pieces to homes all across the globe. Until next time, please visit http://www.vintagestylemarketplace.com and check out their collection for yourself! You won't be disappointed!
From now until November 8, use coupon code GRAND for 15% off your order!