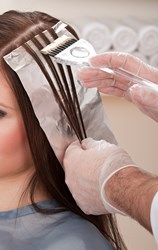 London, United Kingdom (PRWEB) August 30, 2013
Hairdressers all across the United Kingdom are advised to use powder free, non-latex gloves ideally around 300mm by the Health and Safety Executive. The Glove Club has just introduced their own range of long length vinyl gloves specifically for the hairdressing market.
The Simply Powder Free Long Length Vinyl gloves are 12" long (300mm) and are available in small, medium & large. Made to a medical grade AQL 1.5 they are also suitable for use in the healthcare sector.
The Glove Club also offers a long length powder free nitrile glove which is a blue micro-textured nitrile glove which again is available in small, medium & large.
The hairdressing gloves are now available from The Glove Club website along with complimentary products such as aprons, wipes and paper products.
About Glove Club Ltd
The Glove Club has been a manufacturer, wholesaler and distributor of medical grade disposable products since 1994. Its experience and expertise of supplying products to a wide range of customers makes it a cut above the rest. In its 18 extensive years of business they have been a leader in latex, nitrile and vinyl gloves, all made to a medical grade (AQL 1.5) and many everyday disposables like masks, paper towels and aprons. They supply to dental practices, nursing homes, funeral directors, veterinaries, hospitals, GP's and even the general public.
Users of disposable consumables can contact The Glove Club on 0500 456 832 or by accessing the new website at http://www.gloveclub.co.uk.
Manoj Parmar, Marketing Manager
Glove Club Ltd
+44 208 991 4303
http://www.gloveclub.co.uk