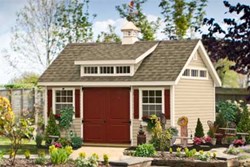 Lancaster, PA (PRWEB) October 26, 2013
Premier vinyl storage sheds from Sheds Unlimited INC of Lancaster, PA have been raised to a new level with a new wood-grain composite shed trim package. And while the new woodgrain look is not a vinyl product, say the managers of this family owned corporation, it is a premier product with a 50 year warranty. Fresh out of the manufacturing facility of this Amish sheds manufacturer, the new trim package on their Premier garden vinyl sheds maintains the beauty of the Premier line while offering decades of safe storage for home storage needs.
Premier Garden Sheds from this family owned and operated corporation have been a growing part of the sales in 2013. Sales are up nearly 25% from 2012 in this rural PA vinyl storage sheds builder and a large part of that due to increasing sales in the top-of-the-line Premier sheds and garages. The Garden Premier Line has caught the eye of homeowners through Pennsylvania, New Jersey, New York, Connecticut, Maryland, Delaware, Massachusetts and even West Virginia.
The addition of this wood grain trim package on these vinyl storage sheds is not only giving the Premier Vinyl Sheds a facelift, it is adding to the value and longevity of this increasingly popular line of beautiful home storage sheds and garages built by the Amish in Lancaster, PA.
In addition, Sheds Unlimited has added all new shed doors to the Premier garden barns and storage sheds in vinyl. The new raised panel shed doors comes in fiberglass and add another touch of beauty to compliment the wood-grain trim package. With a beaded raised panel and the option of painting the door to match the trim package, Sheds Unlimited design managers hope this new Premier vinyl garden shed design will attract even more customers looking for beautifully designed backyard vinyl sheds.
Premier garden sheds entered the Sheds Unlimited line in 2011. It was a move by the Sheds Unlimited management to offer a broad range of painted sheds and maintenance storage shed options for a wide range of customers. "We've discovered that beauty sells," says Chris Stoltzfus, the marketing and design manager at the family owned and operated corporation.
Beginning several decades ago, Sheds Unlimited began by producing wooden storage sheds on the home family farm. That later grew to include vinyl storage sheds and later Classic and Premier Garden Storage Sheds in both wood and vinyl. More products were added throughout the years including two story modular sheds, detached two car garages, garages with attic space and more recently chicken coops. The latest addition expands the options available to Sheds Unlimited customers through PA, NJ, NY, CT, DE, MD, VA, WV and beyond.