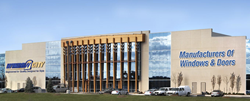 Our customization options are almost endless, so if you can dream it we can make it.
Toronto, Ontario (PRWEB) July 07, 2015
Replacing existing windows with Window City's new Energy Star-rated vinyl windows can help reduce energy costs in homes by up to 30%. The window cavities are now equipped with Argon gas, which is 25% denser than air and can boost insulation, providing an R-value of approximately R4.
In response to constantly rising energy costs, Window City has improved its products' efficiency. This new window update will provide customers with a more comfortable home in both the winter and summer months. Most importantly, the addition will reduce the cost of heating or cooling a home.
Window City also offers triple pane glass with Krypton gas-filled cavities. While Argon improves a window's insulation efficiency by 16%, Krypton improves it by 27% and can provide customers up to an R9 rating. The dense gas slows the transfer of heat from the inside of the home in winter and from the outside in summer. Triple pane glass offers the added benefit of noise reduction, making homes not only more comfortable, but also quieter. Invest in new gas-infused windows now and reap the savings over the next twenty years.
About Window City:
Window City is a 4th generation, family-owned Canadian company that operates a state-of-the-art, 500,000 square-foot manufacturing facility in Vaughan, Ontario, where it produces vinyl windows, patio doors and entry doors. The company has provided over one million windows in homes throughout Canada. Window City offers one of the best warranties in the industry, and its dealers offer unrivaled customer support and service.
Window City is known for excellence, innovative design, superb craftsmanship, state-of-the-art technology and reliable delivery. Each of its products exceeds quality testing standards by at least 30%. Dealers, builders, architects and home renovators enjoy working with its vast range of products, options and accessories. Window City designs are showcased throughout North America in homes that range from simple to superb.