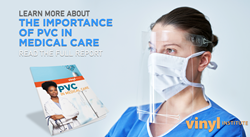 The risk of using alternative materials in healthcare settings, when patients' lives are at stake, must be weighed against PVC's safe and reliable 50-year track record in the medical field.
WASHINGTON (PRWEB) January 11, 2023
Today, the Vinyl Institute released "PVC in Medical Care," a report highlighting the safe and preferred use of PVC for more than 50 years in U.S. medical care. Decades of utilization have shown that PVC is one of the most dependable, durable, and versatile materials for healthcare settings. This document is available for free and provides educational, science-based facts and information about PVC and its positive impacts on patients and caregivers.
"No other technology can match the proven performance of PVC," said Ned Monroe, president and CEO of the Vinyl Institute. "The risk of using alternative materials in these settings, when patients' lives are at stake, must be weighed against PVC's safe and reliable 50-year track record in the medical field."
The report details the unparalleled performance of PVC and how it has revolutionized the way hospitals and medical facilities administer patient care including:

preserving blood longer - for 42 days – when stored in a PVC bag,
extending the shelf life of medicines – PVC packaging seals tightly and can be tamper-resistant
eliminating breakable containers, such as glass, for the storage of blood and dialysate fluid, due to PVC's strong and durable nature,
preventing the spread of disease and infection with PVC flooring, wall coverings, and furniture due to PVC's excellent surface properties and cleanability.
The new report also highlights how the U.S. PVC industry has improved the way the material is safely produced, used, and responsibly managed including substantially reducing emissions which protect workers, neighboring communities, and the environment.
Additionally, the report addresses global PVC medical recycling programs in place. Last year, the Vinyl Sustainability Council announced a call for interest in a U.S. medical recycling pilot program. Based on responses from PVC recyclers, manufacturers, and healthcare systems, a pilot program is slated to launch this year.
The PVC in Medical Care document is available for download.
About the Vinyl Institute:
The Vinyl Institute (VI), founded in 1982, is a U.S. trade association representing the leading manufacturers of vinyl, vinyl chloride monomer, vinyl additives, and modifiers. The VI works on behalf of its members to promote the benefits of the world's most versatile plastic, used to make everything from PVC piping to flooring, roofing, and vinyl siding. The vinyl industry in the United States employs over 350,000 highly skilled employees at nearly 3,000 facilities and generates an economic value of $54 billion. For more information, visit vinylinfo.org.