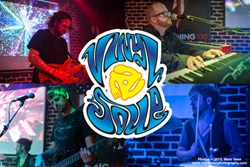 Combining kicky Southern rock and rhythm & blues with progressive jam-band sensibilities, these folks deliver music with brains as well as brawn. - Progression Magazine
Columbus, GA (PRWEB) November 06, 2013
Vinyl Soup performs 2 set, 3 ½ hour show at Soho Bar and Grill in Columbus, GA
Vinyl Soup is the premiere psychedelic rock band from Nashville, TN. Sonically falling between '70s British rock, progressive rock, folk rock, and the American jamband scene, their ethos includes an eclectic blend of influences.
Vinyl Soup released their third full-length album, The Beacon Within, on March 1, 2013. In less than two months after its release, the album received national and international critical acclaim, and was given 15 out of 16 stars in Progression magazine. Still going strong, The Beacon Within recently charted at #5 on the Jambands.com/Relix radio charts, gaining the band national attention, and sharing the spotlight with artists such as Derek Trucks, Susan Tedeschi, Buddy Guy, John Fogerty, Phish, Mickey Hart, and The Greyboy Allstars.
Vinyl Soup will be performing a 2 set, 3.5 hour show at:
Soho Bar and Grill
5751 Milgen Rd
Columbus, GA 31907
Friday November 15th
Doors: 9 pm Show time: 10 pm
Age: 21 + Cover: $5
For more information about the band including additional shows, please visit http://www.vinylsoup.com
For more information, images, or to arrange an interview, please contact Melissa Zeigler at Powderfinger Promotions: melissa(at)powderfingerpromo(dot)com.
Powderfinger Promotions–Independent Radio Promotion and Publicity. Since being founded in October 1994, Powderfinger has come to be regarded as a top indie radio promotion and publicity firm with ties across North America.