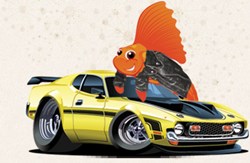 New York, NY (PRWEB) August 16, 2013
Matt Pais wrote in RedeyeChicago.com on August 15, 2013 that 'Kick-Ass 2' is riddled with violent scenes and an all too relaxed attitude when it comes to violence. In light of the violent nature of 'Kick-Ass 2', Roadfish.com has released its list of the top 3 violent movies of 2013.
Though there are more violent movies on the horizon for the remainder of the year, 2013 is off to a violent start. It can be difficult to discern how violent a film may be based on the rating and reviews alone. As a result, RoadFish.com has scoured the movies of 2013 to find the most violent.
The editor of RoadFish.com said, "Whether you are a fan of violent movies or want to steer clear of horrific scenes, our list of the most violent movies of 2013 lets moviegoers know where to expect violence."
1. Only God Forgives: Hailed as 'sickeningly violent', this thriller film actually caused many to walk out and boo at the 2013 Cannes Film Festival on account of the violence.
2. Red 2: Despite the fact that the film never shows any blood, the extensive amount of violent scenes make Red 2 a contender for most violent film of the year.
3. Kick-Ass 2: The comedic spin on violence did this film more harm than good, causing its owner actor, Jim Carrey, to speak out against it.
In the wake of the review by RedeyeChicago.com arguing that 'Kick-Ass 2' is overly violent, http://www.RoadFish.com announces it's list of the top 3 violent movies released so far in 2013. Agreeing with Matt Pais, 'Kick-Ass 2' ranks third on the list of most violent movies of the year.
About RoadFish.com
RoadFish.com is an online journal dedicated to keeping people in their 30s and 40s in the know.