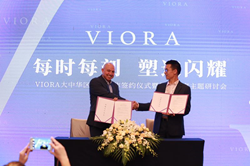 Viora LTD CEO, Mr. Eliran Almog: I'm profoundly excited by the magnitude of this strategic step in Viora's global growth. I have no doubt that our activity within China will bring enormous value to the brand in the global medical aesthetic arena.
NEW YORK (PRWEB) July 31, 2019
Shanghai Viora Medical Technology LTD co. was founded in 2018 and is currently made up of 20 dedicated employees with great passion and ambition.
Viora China headquarters is based in Shanghai, with an additional branch in Hangzhou and future plans to expand to other tier 1 cities in China.
The CEO and Owner is Mr. Amerson Wang, a successful Chinese businessman who holds a medical degree from the United States.
The strategic alliance was created after 2 years of successful collaboration between Viora & Mr. Amerson Wang.
Mr. Wang has grown to become a strategic partner, and established a strong and fruitful relationship with Viora.
This pivotal step allows Viora to maximize its brand activity in this top aesthetic market.
Viora is one of the Top sponsors of the national Beauty Pageant Contest in China that will take place in Shanghai in November 2019.
Additionally, Viora & Viora China will present together in the upcoming Cosmoprof Asia HK 2019.
Viora looks forward to great achievements in the Chinese market!
About Viora
Viora is a leading aesthetic solutions brand that constantly strives to grow together with its customers and employees, by providing aesthetic technology Fusion® to thousands of aesthetic professionals across the globe, enabling millions of patients an access to a family of aesthetic treatments. Viora is a customer driven organization that puts its values of high integrity, openness, leadership and quality, in the center of its performance.
With presence in over 65 countries, Viora's noninvasive products address a wide range of symptoms, treating today's most commonly requested applications for anti-aging, body & facial contouring, cellulite reduction, acne clearance, stretch mark reduction, hair removal, skin lightening and more.
Viora builds time machines, so our customers can shape their future. For more information, visit http://www.vioramed.com