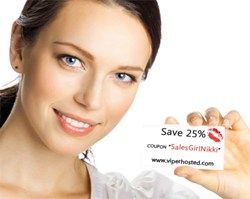 'We make money when our affiliates do. So we will spare no efforts to help our affiliates earn commissions,' said Bobby, CEO of Viper Hosted, Inc.
Houston, TX (PRWEB) August 01, 2013
There are many affiliate programs with the guarantee of earning "plenty" of residual income when they sign up. However, most fail to deliver, leaving the affiliate marketer disappointed and frustrated. Most companies spend more time worrying primarily about the bottom line rather than the hard working affiliate. They often offer very low commissions, long payout waits and do not provide the marketing engine necessary to assist in the success of an affiliate.
At ViperHosted.com, their cloud hosting based affiliate program is very different. One major difference is that ViperHosted.com offers an increased amount of diverse cloud solutions, such as its ever popular Wordpress Elite hosting. This is an out-of-the-box Wordpress hosting solution which is pre-bundled with Premium Themes and Plugins. The company also markets its Hosted Smartermail, and the recently acquired Viper Cloud Backup, an emerging force in business cloud backup.
ViperHosted.com believes in a true and fair partnership, which has led the company to offer a generous affiliate program to potential partners. The program is designed to offer partners with an opportunity to earn a steady residual income stream, and not just a quick buck. Unlike other affiliate programs, the ViperHosted.com cloud hosting affiliate program, provides its partners with the latest marketing innovations. "We make money when our affiliates do. So we will spare no efforts to help our affiliates earn commissions," said Bobby Ryan, CEO of Viper Hosted, Inc. "We will provide any necessary materials, like banners, landing pages and special promotions to help them grow more revenues."
The company's team of software and web experts provides the affiliates with all tools necessary for the conversion of existing traffic into actual sales resulting in the generation of extra passive income. One of the more recent initiatives was the implementation of Viper Hosted Affiliate Coupons which are applied at checkout. While typical affiliate URL's links tend to look spam-like, the coupon codes can be custom created and distributed by the affiliates themselves. They also in no way affect the generous commissions that the company offers. In addition, ViperHosted.com takes complete care of the referrals' billing and support freeing up the affiliates from the logistics and day-to-day operations.
One of the most prominent benefits of the ViperHosted.com Cloud Hosted Affiliate Program is the generous commissions. Affiliates can earn a flat rate commission of 30% to 45% from all of the Viper Hosted solutions. For example, affiliates that acquire 25 leads for the company's professional hosting plans, will earn around $1,400. An additional incentive program further boosts the affiliate's income. After the first twenty five accounts, the company will increase the affiliate's base commission by at least 10%. ViperHosted.com also promises to offer monthly bonuses to successful affiliates and provide weekly changes to landing pages and banners allowing the partner's conversion ratios to skyrocket.