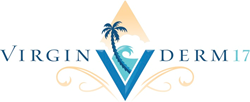 We're always striving to push the field of dermatology forward at Virgin Derm. Being able to provide landmark presentations was a wonderful opportunity and a chance to bring even greater, more effective treatment options to practices. - Dr. David McDaniel
Alpharetta, GA (PRWEB) January 31, 2017
The dermatologists at Virgin Derm 17, which took place at the Frenchman's Reef & Morning Star Marriott Beach Resort on St. Thomas in the Virgin Islands from January 20 through 22, are proud to announce that the prestigious annual meeting played host to the first ever presentation of RHOFADE™ topical cream since its FDA approval and the first live patient injections of Restylane® Refyne and Defyne at a continuing medical education (CME) event in the United States. These new dermatology treatments and their presentation at Virgin Derm 17 represent some of the latest and most exciting advancements in the world of dermatology.
"We're always striving to push the field of dermatology forward at Virgin Derm," said Dr. David McDaniel, Co-Chairman of Virgin Derm and Director of the McDaniel Institute of Anti-Aging Research and Laser & Cosmetic Center. "Being able to provide such landmark presentations with RHOFADE and both Restylane Refyne and Defyne was a wonderful opportunity and a chance to bring even greater, more effective treatment options to the practices of the many dermatologists who joined us at our annual meeting."
Allergan's RHOFADE™ cream was approved by the U.S. Food and Drug Administration (FDA) on January 19, 2017, for the topical treatment of persistent facial erythema (redness) associated with rosacea in adults. Approved after two clinical studies that evaluated its efficacy, Dr. Robert Weiss presented the abstract on the Phase 3B clinical study on RHOFADE on Friday, January 20 – the first presentation in the United States after its FDA approval.
See the presentation and more photograph's at Virgin Derm's Facebook photo album.
"Facial redness caused by rosacea can be a source of difficulty for many who deal with the condition, especially when the available treatments do not provide the results they need," said Dr. Robert A. Weiss, Co-Chairman of Virgin Derm and Director of Maryland Dermatology Laser, Skin & Vein. "RHOFADE provides a new and effective option for the treatment of facial erythema. Giving its first presentation in the U.S. was an honor for me."
Restylane Refyne and Restylane Defyne were recently approved by the FDA for wrinkle treatments. Specifically, Restylane Refyne was approved for the treatment of moderate to severe facial wrinkles and folds and Restylane Defyne received approval for the treatment of moderate to severe, deep facial wrinkles and folds. These dermal fillers use scientifically-advanced gels manufactured with XpresHAn Technology that offer a range of flexibility and support for varied needs, with results lasting for up to 12 months.
"Restylane Refyne and Defyne exemplify some of the best advancements in wrinkle treatments today," said Dr. Mitchel Goldman, Co-Chairman of Virgin Derm and Medical Director of Cosmetic Laser Dermatology, as well as California Medical Director for West Dermatology. "By performing the first live CME patient injections of these treatments, numerous dermatologists were able to receive valuable, evidence-based demonstrations of a treatment that will be in high demand in the coming months and years."
About Virgin Derm
Virgin Derm is a CME-certified advanced educational program delivered by the foremost leaders in minimally invasive aesthetics. Enjoy rich experiences for networking, information sharing, and discussion across minimally-invasive aesthetics, including facial enhancement, neck and hand rejuvenation, light and energy-based procedures, skin care, and anti-aging strategies.
This activity has been planned and implemented in accordance with the Essential Areas and policies of the Accreditation Council for Continuing Medical Education (ACCME) through the joint providership of Imedex and x-Medica. Imedex is accredited by the ACCME to provide continuing medical education for physicians.
For more information about us, please visit http://virginderm.org/.
Virgin Derm
10945 State Bridge Road
Suite 401-302
Alpharetta, GA 30022
info(at)x-Medica(dot)com