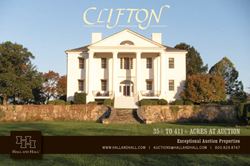 It has always been associated with a tradition of excellence in architecture, agriculture and stewardship of the land and the time has come for a new chapter of ownership to begin.
Eaton, CO (PRWEB) June 10, 2014
A 411-acre Clarke County, VA working farm once owned by the family of George Washington sold for $4,345,000 at an auction conducted by Hall and Hall on June 3, 2014. The property, known as Clifton, was once part of an estate owned by Warner Washington I, first cousin to George Washington. George worked as a surveyor in the area and spent significant time on the property, which continued as a place of importance during the Civil War. For more information on the auction, contact Scott Shuman of Hall and Hall Auctions at 800-829-8747 or visit http://hallhall.com/ranches-for-sale/properties/clifton.
"We had 80+ people in attendance and 13 registered bidders," said Shuman. "The quality of the crowd was impressive with some of the country's top landowners in attendance."
During the Civil War, Confederate General Stonewall Jackson quartered his cavalry in the Barracks Barn, the mansion house served as headquarters for General John Mosby's main Confederate army in August 1864, and later Union General Phil Sheridan directed maneuvers in the northern Shenandoah from the farm.
"Clifton has always been a prestigious country estate for the select few who have called it home," said Shuman. "It has always been associated with a tradition of excellence in architecture, agriculture and stewardship of the land and the time has come for a new chapter of ownership to begin."
About Hall and Hall:
Hall and Hall was formed in 1946 as an agricultural mortgage company, and has since branched out into farm and ranch brokerage, appraisals, resource management and enhancement, retained search, auctions, and consultation on conservation easements and stewardship plans. Hall and Hall has emerged as the largest full service rural real estate firm in the Rocky Mountain West and Great Plains regions, managing more than one million acres of land, and servicing a loan portfolio of more than $500 million. A unique partnership between its offices in Montana, Wyoming, Idaho, Texas, Kansas, Nebraska and Colorado ensures that the client receives local knowledge and personal service as well as the international perspective needed to make informed acquisition and management decisions. http://hallhall.com/