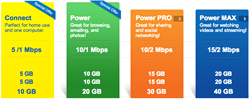 Satellite Service.us now offers Virginia residents the option to purchase a high speed Internet and unlimited phone calling service bundle saving 25% to 35% on their phone and Internet bill.
Richmond, Virginia (PRWEB) September 26, 2013
If you're an avid Web surfer, but don't like the annoyance of buffering video and dropped connections that come with slow dial-up or DSL technology, it's time to switch to Satellite Service.us (http://www.satelliteservice.us), an authorized Gen 4 satellite retailer delivering high speed internet and unlimited phone service to all counties and homes in Virginia without the need for a phone line.
Benefits of Virginia High Speed Satellite Internet:

Download Speeds up to 15 Mbps
Upload Speeds up to 2 Mbps
Faster Than DSL and Most Cable Providersin Virginia
Available Almost Anywhere in Virginia Where Cable and DSL Are Not
Unlimited Phone Calls throughout US and Canada
Does Not Need a Phone Landline
Low Monthly Rate
And much more...
"We give computer users all the functionality that they need when exploring the World Wide Web with high-speed satellite Internet that is dependable, convenient and, in some cases, more affordable than old technology provided by most Virginia Internet service providers," says Ron Legarski of Satellite Service. "We provide a variety of satellite Internet plans that offer affordability as well as excellent service."
As a Virginia satellite Internet provider, Satellite Service has everything you need to switch from dial-up or DSL service, including a team of professionals who will come to your property and install the necessary equipment to have you online quickly.
The service includes rural satellite Internet for communities in Virginia with remote geographical locations, or that who don't currently have an alternative to dial-up. Satellite Service offers satellite broadband as an option no matter where you might live.
Compare the speed of Virginia satellite Internet service to the typical cable company or other provider. The satellite service provider offers a plan that gives users' connections of 15 Mbps with data limits of 40 GB. That's more than 500 times the ordinary dial-up speed and three to five times that of DSL. It is suggested that if a household is paying more than $100 monthly for equal speed or less, the satellite service provider might help them to save money on their Internet connection.
The premium Power MAX plan is for heavy Internet users in Virginia interested in downloading videos, listening to digital music or playing games; a Power PRO plan with 10 Mbps and 30 GB is intended for those who frequent social media sites to share photos and memos, while the basic Power plan will satisfy customers who use their computers primarily for basic browsing and email.
Virginia Satellite Internet service is now available in the following Virginia counties:
Accomack, Albemarle, Alexandria City, Alleghany, Amelia, Amherst, Appomattox, Arlington, Augusta, Bath, Bedford, Bedford City, Bland, Botetourt, Bristol, Brunswick, Buchanan, Buckingham, Buena Vista City, Campbell, Caroline, Carroll, Charles City, Charlotte, Charlottesville City, Chesapeake City, Chesterfield, Clarke, Clifton Forge City, Colonial Heights City, Covington City, Craig, Culpeper, Cumberland, Danville City, Dickenson, Dinwiddie, Emporia City, Essex, Fairfax, Fairfax City, Fauquier, Floyd, Fluvanna, Franklin, Franklin City, Frederick, Fredericksburg City, Galax City, Giles, Gloucester, Goochland, Grayson, Greene, Greensville, Halifax, Hampton City, Hanover, Harrisonburg City, Henrico, Henry, Highland, Hopewell City, Isle of Wight, James City, King and Queen, King George, King William, Lancaster, Lee, Lexington City, Loudoun, Louisa, Lunenburg, Lynchburg City, Madison, Manassas Park City, Martinsville City, Mathews, Mecklenburg, Middlesex, Montgomery, Nelson, New Kent, Newport News City, Norfolk City, Northampton, Northumberland, Norton City, Nottoway, Orange, Page, Patrick, Petersburg City, Pittsylvania, Poquoson City, Portsmouth City, Powhatan, Prince Edward, Prince George, Prince William, Pulaski, Radford City, Rappahannock, Richmond, Richmond City, Roanoke, Roanoke City, Rockbridge, Rockingham, Russell, Salem, Scott, Shenandoah, Smyth, Southampton, Spotsylvania, Stafford, Staunton City, Suffolk City, Surry, Sussex, Tazewell, Virginia Beach City, Warren, Washington, Waynesboro City, Westmoreland, Williamsburg City, Wise, Wythe and York Counties.
For more information on the coverage area for Satellite Internet, please visit:
http://www.satellitespeeds.com/virginia
Satellite Service is a Virginia satellite Internet Broadband provider that can serve all of your computer needs with HughesNet Gen 4 technology installed by a professional technician. With connection speeds that equal or surpass those of dial-up and DSL service, the company offers an affordable alternative to conventional Internet service and the easy setup can have you online in just a few hours. With other products, including Virginia telephone service and home security, Satellite Service meets a variety of communications and security needs.
For more information on satellite Internet and phone service providers, please call toll free and speak with a representative today at 1-877-247-5156 or by visiting: http:///http://www.satellitevpn.net