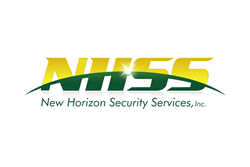 Manassas, VA (PRWEB) February 02, 2015
New Horizon Security Services, Inc., a privately-owned security services firm headquartered in Manassas, VA, specializing in armed and unarmed security officers in the Mid-Atlantic region, has been selected by Arlington County to provide unarmed security services for several government buildings beginning February 1, 2015.
The contract with Arlington County will serve the Department of Human Services, Community Services, Social Services, the Community Services Board, and the Arlington Employment Center. New Horizon Security officers will be assisting visitors, providing access control, escorting staff to vehicles, and securing the facilities at each location. The contract will be in place until 2019 if all option years are executed.
"I am honored that Arlington County has chosen New Horizon Security to protect the County's essential facilities," said John "J.J." Frazer, President and CEO of New Horizon Security. "Arlington is a natural extension for New Horizon Security. We support more than 18 state agencies in addition to many municipal and private organizations, which has given us the experience to hit the ground running delivering best practices in private security."
New Horizon Security provides trusted security services that are supported by a company-wide standard of excellence. New Horizon Security's in-house DCJS-certified training academy, ongoing investments in proprietary technology, and emphasis on customer service contribute to their selection for security services by many public and private organizations throughout the Mid-Atlantic region.
This contract is part of a continuing trend of expansion for New Horizon Security, which has been recognized by Inc. Magazine's Top 5000 list every year since 2011, a list that recognizes the nation's fastest growing companies. Already the largest independent, family-operated security firm in the Mid-Atlantic, New Horizon Security continues to serve an ever-increasing group of government agencies, educational organizations, and commercial clients.
About New Horizon Security Services, Inc.
New Horizon Security specializes in providing high-quality armed and unarmed security officers throughout the Mid-Atlantic region in support of local and state government agencies, private businesses, commercial and retail properties, construction sites, residential communities, education facilities, and public service buildings. New Horizon Security also operates a certified training academy to train unarmed and armed security officers for the field. This training academy is open to the public as well. New Horizon Security is headquartered in Manassas, VA with satellite branches in Richmond, Tidewater, Newport News, Roanoke, and Danville, VA. Click here to learn more about New Horizon Security.