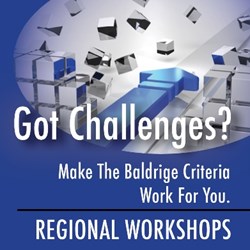 Richmond, VA (PRWEB) October 18, 2013
Virginia SPQA today announced its upcoming regional Baldrige Criteria for Performance Excellence training workshops in Northern Virginia, Hampton Roads (Tidewater) and Richmond. An additional session is planned for Roanoke in June of 2014 but details are still in the works.
Offered regionally for participant convenience, this two-day workshop entitled "An Inquirer's Guide to the Criteria for Performance Excellence" focuses on the application of the Baldrige Criteria's method to holistically evaluate an organization's process and results maturity at both the micro and macro level. Organizations that benefit include business service, healthcare, government, education and non-profits.
While normally associated with an organization's effort to apply for the nation's Baldrige Award for Performance Excellence, as well as the United States Senate Productivity and Quality Award for Virginia, the Criteria can also be used as a tool to evaluate organizational performance independent of an Award. Indeed, performance improvement advocates at all seniority levels of an organization may benefit by looking at their current efforts through Baldrige Criteria lenses. Professionals engaged in strategic planning, risk, process improvement, lean six sigma, leadership and organizational development, metrics portrayal and validity will likely find this workshop to be of great value.
Specific event dates and links to information and registration follow.
Northern Virginia: November 18-19, 2013
Hampton Roads: December 16-17, 2013
Richmond: January 7-8, 2014
Virginia SPQA is a 31 year old non-profit all volunteer organization whose mission is "To promote continual improvement strategies and provide training, mentoring, and recognition to organizations in pursuit of performance excellence." Virginia SPQA workshop Facilitators are experts in the Criteria and bring many years of experience using it in organizational self-assessment.
In addition to the regional public offerings listed, Virginia SPQA offers "on-site" workshops including this one. Virginia SPQA "on-site" training options vary and can be a more cost effective approach for many organizations.
The nation's Baldrige Criteria for Performance Excellence has been tested for more than 25 years and is updated every two years. It continues to be the only approach to holistically assess an organization's maturity.
###