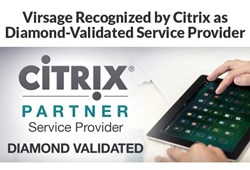 Master agents who want to quickly get started selling desktop as a service find partnering with a white-label reseller to be the fastest route to market.
Lafayette, CO (PRWEB) February 19, 2014
Virsage™, a leading provider of comprehensive cloud IT solutions, today announced that the company has been recognized as a Citrix Service Provider Program Diamond Validated partner for its innovative Virsage WorkPlace™ Desktop-as-a-Service solution for small- and medium-sized businesses.
WorkPlace replaces expensive on-premise servers with a hosted virtual infrastructure solution that delivers application, file, and email services using Citrix technologies including XenDesktop®, XenApp®, and ShareFile.
Diamond Validation is the highest standard for Citrix Service Provider partners. Citrix Diamond Validation requires that Citrix Service Provider partners meet stringent guidelines for architecture, performance, and scalability.
"We are honored that our cloud solution, business approach and technology implementation have been recognized by Citrix. We see the Citrix Service Provider Diamond Validation as recognition that Virsage WorkPlace™ is well-positioned for this emerging market and is in line with best practices in this field," said Chris Dodge, CEO and Founder of Virsage.
"When we first introduced Virsage WorkPlace™ in 2008 we were in uncharted territory. It wasn't until we partnered with Citrix in 2010 that we saw the full potential of the Desktop-as-a-Service market. In addition, Affinity Cloud Connections, LLC, (ACC) has played a key role in our certification by providing market insight and resources to support us throughout the certification process. It is through these partnerships that we have been able to develop a scalable service offering that has allowed us to double our sales in cloud services each year for the past five years."
"Master agents who want to quickly get started selling desktop as a service find partnering with a white-label reseller to be the fastest route to market," said Scott Swanburg, Senior Director of Citrix Cloud App Delivery Sales. "As one of the Citrix Service Provider Partners to complete the rigorous diamond validation process, Virsage has demonstrated their business acumen, intelligent technology implementation and support for their reseller network."
Virsage has the distinction of being a recognized as a Citrix white-label hosting partner. The Virsage Master Agent MarketPlace™ is marketed exclusively through channel partner agreements with national and local Master Agents who offer services such as bandwidth, telecommunications, and other managed IT services. Virsage was recently recognized as a finalist in the Citrix Service Provider Partner Program Awards for Marketing Excellence. The Citrix Service Provider Diamond Validation further extends opportunities for partners to brand and sell their own DaaS services without having to invest in building their own infrastructure. By lowering the entry costs and accelerating time-to-market, telecom Master Agents and Managed Service Providers (MSPs) can easily engage customers in the cloud computing market.
About Virsage
Virsage was founded in 1999 as an IT managed service provider, providing IT support and administration services to small and medium-sized businesses on an ongoing retainer basis. In 2008, Virsage began offering Virsage WorkPlace™, a comprehensive cloud-based IT as a Service solution built on Microsoft® and Citrix technology. WorkPlace™ replaces expensive on-premise servers with a virtual desktop solution combining application, file, and email hosting. Available anywhere, on any device, WorkPlace combines the mobility and convenience of Citrix with high-availability servers, data centers, and technical support.
To learn more about how Virsage WorkPlace™ can help your business, or how you can partner with us, please visit virsage.com.
###
For more information contact: Clint Haynes, Director, Master Agent MarketPlace™. 720.881.3791, partners(at)virsage(dot)com.
Virsage, Virsage WorkPlace and Virsage Master Agent MarketPlace are either registered trademarks or trademarks of Virsage in the United States and/or other countries. The names of actual companies and products mentioned herein may be the trademarks of their respective owners.