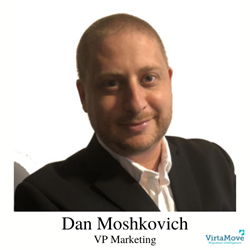 "I'm thrilled to join VirtaMove, a company that leads the way in application modernization and migration" - Moshkovich
TORONTO (PRWEB) May 17, 2021
VirtaMove Names Dan Moshkovich as VP Marketing
Application virtualization and modernization innovator VirtaMove Corp announced today that Dan Moshkovich, a seasoned Marketing executive, has been named Vice President of Marketing.
In his role as Vice President of Marketing, Dan Moshkovich will lead the company's Marketing strategy, brand management, and demand generation efforts as it expands its delivery of transformative application modernization technology.
"Dan has an impressive track record of success in B2B startups and is a great fit to lead VirtaMove's Marketing activities," says Nigel Stokes, CEO VirtaMove Corp. "We're looking forward to welcoming Dan to our Executive team and relying on his expertise to accelerate revenue growth and drive VirtaMove forward."
Dan Moshkovich comes to VirtaMove with over 15 years of Marketing experience. Previously, he served as Marketing Director for HubStor before it was acquired by Veritas Technologies. Prior to HubStor he was the Marketing Director at Riskified, a leading solution for eCommerce fraud prevention.
"I'm thrilled to join VirtaMove, a company that leads the way in application modernization and migration," says Moshkovich. "VirtaMove's solution helps organizations to eliminate their dependence on obsolete servers and improve their application security, cost efficiency, and performance. The company has a tremendous opportunity to reach a broader audience and scale the solution."
About VirtaMove
VirtaMove software is the "best first move" in application modernization. It provides a fast, flexible way to move server applications to new Cloud or datacenter servers, without code change. VirtaMove's patented software moves most complex server applications with ease. It allows you to modernize your infrastructure, moving from an old OS to a newer one with automation – modernize and move to a new datacenter server or Cloud in one step. For more information, visit VirtaMove.com and follow us on LinkedIn and Twitter.