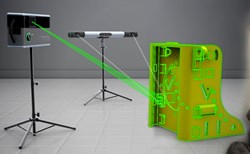 Iris offers a way to speed up the process, ensure accuracy and eliminate the need for manual inspection.
Waterloo, Ontario, Canada (PRWEB) November 12, 2013
Virtek Vision International will demonstrate its Iris™ Spatial Positioning System, which has been shown to accelerate welded assembly processes by as much as 60 percent, at FABTECH 2013 in Chicago. Iris locates hardware components in 3D space and references CAD-specified datums to project a laser outline of each component onto the weldment, ensuring products are manufactured as designed, eliminating manual measuring, marking and fitting steps and making templates obsolete.
David Smith, product manager at Virtek, said, "Iris SPS is ideal for companies manufacturing heavy machinery – earth moving equipment, locomotives, ships, and other large-scale products. Metal forming shops, regardless of the size of the operation or the projects they tackle, all deal with fitting parts for assembly. It requires precision and time – a lot of time. But, Iris offers a way to speed up the process, ensure accuracy and eliminate the need for manual inspection."
The Iris system eliminates differences between 'as built' and 'as designed' because assemblers are always working with the most current CAD file. With Iris, if changes are made to the product design, the system simply references an updated CAD file to accurately guide assemblers. Engineering changes are passed to the shop floor in minutes instead of weeks so assembly can continue without delays and without additional expense.
Virtek will also showcase its LaserQC® rapid inspection system that eliminates bottlenecks associated with quality inspection. LaserQC employs lasers to capture more than 500 data points per second and measures the accuracy of two-dimensional parts to tolerances within 0.05 mm. It is ideal for first-article inspection and reverse engineering requirements. The system compares the finished product to a CAD file and produces a detailed report with all dimensions and deviations from tolerances.
FABTECH is billed as North America's largest metal forming, fabricating, welding and finishing event, taking place Nov. 18-21 at McCormick Place in Chicago, Illinois. Virtek will occupy booth No. S1850.
About Virtek Vision
Virtek Vision International Inc. (http://www.virtek.ca), headquartered in Waterloo, Ontario, Canada, serves aerospace carbon fiber composite part assembly, sheet metal part fabrication and construction markets with high-precision laser templating, quality inspection and spatial positioning systems. The company serves the world's top 10 aerospace companies, among others. It is owned by Gerber Technology of Tolland, Connecticut, USA.
###