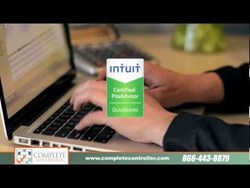 The need for outsourced accounting services is growing in the small- and medium-sized business arena, and Complete Controller provides an affordable and complete solution
Los Angeles, CA (PRWEB) November 02, 2013
Complete Controller, a leading virtual business accounting service provider, today announced an affiliation with Oasis Outsourcing, an industry-leading Professional Employer Organization (PEO) that provides human resources, risk management, employee benefits, healthcare reform support and payroll services. Since 2007, Complete Controller has offered quality, skilled and outsourced bookkeeping and controller-level expertise to hundreds of clients from a multitude of industries and now has the ability to offer those services to Oasis Outsourcing clients.
"We founded Complete Controller on the concept that all small businesses should have access to skilled bookkeeping and controller-level specialists at a reasonable price," said Jennifer Brazer, founder of Complete Controller. "Oasis Outsourcing holds this same belief at its core, making this relationship an excellent fit for us, and we are excited to offer our business accounting services to Oasis' clients."
As Oasis Outsourcing is a nationwide PEO, Complete Controller is now able to extend its reach to additional small businesses, which historically have been unable to find a trusted provider of virtual and outsourced accounting services—and certainly not to the comprehensive degree offered by Complete Controller.
"The need for outsourced accounting services is growing in the small- and medium-sized business arena, and Complete Controller provides an affordable and complete solution," said Joseph Mauceri, Director of Accounting for Oasis Outsourcing.
Utilizing an online, cloud-hosted desktop that is accurate, efficient and more secure than online banking, Complete Controller's team of accounting professionals provides bookkeeping, AP and AR services, cash-flow management, budgeting and forecasting, vendor and client accounting services, and customized monthly reporting. Each client works directly with a qualified bookkeeper and controller who perform accounting services and develop processes to ensure success.
By making virtual accounting services not only possible for small business, but also extremely practical, Complete Controller enables business owners to step into the future of accounting, right here in the present. To find out more about Complete Controller, go to http://completecontroller.com/.
About Complete Controller:
Complete Controller is a virtual accounting firm with clients and accountants across the nation. They provide all accounting support to the CPA, CFO, or CEO of their client organizations replacing or training staff positions or task work related to AR, AP, GL, budgeting, cash flow management, inventory, job costing and more. For more information, visit http://completecontroller.com/.