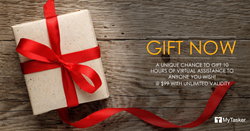 Can't stop time? Gift it
Kolkata, India (PRWEB) December 10, 2015
December, the gifting season is back. This is the time of the year when people are busy buying gifts for one another to celebrate Christmas along with the upcoming excitement of a brand new year, which is going to bring in happiness, hope, optimism and so much more. Gifting something special and unique is certainly the call of the hour and probably that is the reason behind this unique "Gift of Time" offered by MyTasker.
The newfangled idea, "Gift of Time" by MyTasker is an exclusive and excellent offer to strengthen corporate ties and create long lasting professional bonds. The recipient of this gift of time can outsource any number of tedious or time-consuming tasks like email management, calendar management, social media management, online marketing, research, administration and more to the professional virtual assistants at MyTasker. These tasks shall be completed charge-free, and the time consumed shall be deducted from the 10-hours gifted to them.
So, this December it's time to relax and be merry, as virtual assistants take up the workload, stress and responsibilities away from people. "Finding the right gifts for our friends and colleagues is a challenge since we never know what they need most," says the Director of MyTasker, Gurjeet Dillion. "Everyone is so busy these days that what they need most, is time. With this offer, we are giving them an opportunity to offload their tasks."
A virtual assistant is actually a professional who works in any genre of task and completes it successfully with excellence. Communicating and offering services via online collaboration tools is actually a boon in disguise for those who wish to save on time, money and enjoy life. This kind of a December gift is surely going to be highly appreciated because of its unparalleled and unmatched concept. A confident Gurjeet says, "Once they get used to us taking care of work for them, they will not want to leave."
While 10 hours of virtual assistance from MyTasker is approximately USD 120, the "Gift of Time" comes at a much discounted rate, which is a happy news. Charged at USD 99, anyone can gift 10 hours of VA time to anyone, all round the globe. No need to have a previous subscription or any agreement with the company. Entering the essential details along with making a payment is just enough to complete your offering the "Gift of Time" to someone who matters and will value such an invaluable token.
Along with this MyTasker, allows the person who receives the gift to remain a lifetime subscriber with the "Pay As You Go" plan. Just pay and delegate services, no need to register again. With poise and an air of certainty, Gurjeet claims, "If they're good at delegation, they will stick to it."
About mytasker.com:
MyTasker is one of the leading virtual assistance companies with a global reach. With subscribers all over the world, their working strategy is to deliver tasks with perfection offering professional VA services 24/7. Check out their company website and gift someone the much needed valuable time this December. Visit: https://mytasker.com/gift-time.php
For more information, please contact:
Tasker Virtual Assistance Services Pvt. Ltd.
1 Ishwar Ganguly Street, Kolkata: 700026, India.
Office numbers: 033-400 144 53, (212) 80034745, 020 81445216.
Mail id: info(at)mytasker.com
Fax: 1(212)918-7950.