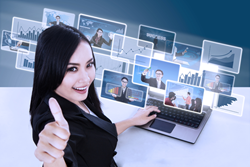 By offloading routine tasks to the Intelligent Assistants®, the client is freed up to work on other priorities.
San Francisco, CA (PRWEB) May 07, 2014
Intelligent Office San Francisco, a virtual office and staffing provider, announces the significant results its clients have experienced using its virtual assistants, or Intelligent Assistants®. The Intelligent Assistants® are trained by clients to know their businesses well and work on a variety of tasks, including appointment scheduling, filling out intake forms, and making outbound calls. By offloading routine tasks to the Intelligent Assistants®, the client is freed up to work on other priorities.
Intelligent Office's clients cover a diverse range of industries, including legal, financial services, technology, trades, real estate, and medical offices. They are typically small businesses that tend to be resource constrained, whether by time and/or money.
Small business owners usually wear multiple hats and are pulled in many directions. It can be difficult to stay focused and productive. As a small business owner, you can imagine that there are multiple benefits to freeing up your time, such as maintaining a better work/life balance, taking on less stress, increasing your productivity, and possessing more time for outside work commitments such as family, friends, hobbies, and exercise.
This extra time has allowed clients to focus more on business development. In several instances, by qualifying leads, clients can cherry pick the more suitable customers to work with. Due to the professionalism and resourcefulness of Intelligent Assistants®, clients are finding that they are seeing higher sales conversions on phone calls.
In other situations, IO's clients state that they have more time and energy to work on jobs or contracts because they don't have to spend their precious time taking calls. "Having them taking my calls and emails has really freed me up to focus on other aspects of building my practice," says one client, a therapist who utilizes Intelligent Office's services. Another client, a sign maker, explains how Intelligent Office "freed me up to focus on the important tasks that I have throughout the day. I could get back to the new calls at a time when I'm prepared for them."
All the above translate to more revenues.
"It is very satisfying to see the results our clients have gained using our virtual assistant program," says Wilson Tandiono, Director of Intelligent Office San Francisco. "It feels great to have made a positive impact to their businesses and lives."
Intelligent Assistants® typically cost a fraction of hiring a full-time receptionist or assistant. This is because Intelligent Office can pool resources and achieve a higher utilization of its team of receptionists.
Intelligent Office San Francisco is currently providing a one-month risk-free trial at no cost. For more information or to take advantage of this free trial program, please call 415-745-3300, or visit: http://www.intelligentoffice.com/locations/california/san-francisco/san-francisco/virtual-receptionist-experience.aspx.
About Intelligent Office:
Intelligent Office is the leading virtual office service provider for mobile executives and small businesses in North America. The company is headquartered in Denver, Colorado and has over 50 locations in North America. Intelligent Office helps clients grow their businesses and work smarter by combining professional staffing with the physical and technological infrastructure of a virtual office. Intelligent Office's executive office suite, virtual office, conference room rental, and virtual receptionist solutions provide support for entrepreneurs, mobile executives, professional services firms, medical offices, independent contractors, satellite offices, non-profits, and small and home-based businesses. Virtual office services help businesses save on overhead costs and gain flexibility while projecting a professional presence. Intelligent Office's à la carte services can scale with a business's needs and budget, and its cost-effective plans are great for any phase of business – whether starting out, growing, running an established business, downsizing, or branching out into a new territory. For more information on services, visit: http://www.intelligentoffice.com/california/san-francisco/.