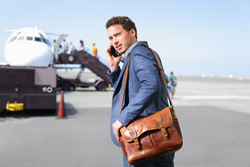 It's like having your own personal assistant.
San Francisco, CA (PRWEB) July 16, 2014
Intelligent Office San Francisco, a virtual office and staffing provider, announces connectivity solutions for traveling business executives, professionals, entrepreneurs, and business owners. Whether the client has a busy trip schedule or is on vacation, Intelligent Office's virtual assistants can handle the client's calls and emails according to instructions, including call screening, routing, message taking, scheduling appointments, emergency procedures, and more. Business interruptions are minimized and the client can be more productive or relaxed on a trip.
Business travelers usually have a lot of things on their minds: for example, getting to different meetings around town, honing their presentation, strategizing, building relationships with clients, and adjusting to the new environment and time zone. On the other hand, vacationers want to enjoy their trip with peace of mind. The last thing they both want is to be bombarded by distractions such as trivial phone calls. Intelligent Office's virtual assistants act as gatekeepers and can announce and connect only important calls to the traveler. Specific screening instructions can be provided and they can be changed at any time during the trip.
Call routing instructions can also be time specific. For example, based on the traveler's itinerary, calls during certain times of the day might go to a mobile number and at other times to the hotel, an associate back in the home office, or voicemail. The virtual assistant can also take down messages and email or text them to the client. When the call is an emergency and the client cannot be reached, the virtual assistant can follow specified instructions and contact the necessary parties.
In addition to their gatekeeper and receptionist roles, the virtual assistants can be trained to follow business processes and provide callers with business-related information. They can fill out intake forms, furnish relevant information to help convert leads to customers, and schedule appointments for the client. Customers will be more at ease knowing that the client is still in business and will get back to them. There is no disruption to business continuity or loss of leads due to gaps in phone and email coverage. The client will not miss potential business development opportunities while away.
"It's like having your own personal assistant," says Wilson Tandiono, Director of Intelligent Office San Francisco. "Callers will recognize and appreciate the warm, enthusiastic voice of our assistants. They will provide the utmost care and attention to our clients' customers. When customers are happy and satisfied, our clients will get more repeat business and referrals and business will prosper. We strongly believe in the value of our service, and to stand behind the quality of our service, we're offering a one-month risk-free trial at no cost."
For more information or to take advantage of this free trial program, please call 415-745-3300, or visit: http://www.intelligentoffice.com/locations/california/san-francisco/san-francisco/virtual-receptionist-experience.aspx.
About Intelligent Office:
Intelligent Office is the leading virtual office service provider for mobile executives and small businesses in North America. The company is headquartered in Denver, Colo., and has over 50 locations in North America. Intelligent Office helps clients grow their businesses and work smarter by combining professional staffing with the physical and technological infrastructure of a virtual office. Intelligent Office's executive office suite, shared office, coworking, conference room rental, and virtual receptionist solutions provide support for entrepreneurs, mobile executives, professional services firms, medical offices, independent contractors, satellite offices, non-profits, and small and home-based businesses. Virtual office services help businesses save on overhead costs and gain flexibility while projecting a professional presence. Intelligent Office's à la carte services can scale with a business's needs and budget, and its cost-effective plans are great for any phase of business – whether starting out, growing, running an established business, downsizing, or branching out to a new territory. For more information on services, go to: http://www.intelligentoffice.com/california/san-francisco/.