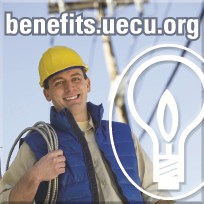 We're excited to offer our financial wellness products, services, and education to a top U.S. engineering firm.
Wyomissing, PA (PRWEB) July 23, 2013
Utilities Employees Credit Union (UECU) has partnered with engineering and consulting firm KCI Technologies, to serve the firm's 20 U.S. locations with financial service benefits for employees and their family members. UECU offers energy, utility, and related partner-industry companies a free voluntary benefit they can extend to workers and their families to promote financial wellness, reduce company health care costs, and enhance worker productivity.
"UECU is looking forward to working with employees of KCI Technologies to help them reach their financial goals," says Erica Kunkel, Business Development Specialist for UECU. "We're excited to offer our financial wellness products, services, and education to a top U.S. engineering firm. This is a great opportunity to expand our reach to those providing services to the utility industry, and UECU's services will expand KCI's existing benefits package."
KCI Technologies provides engineering, consulting and construction services to clientele across the nation and beyond, to serve companies' environmental, telecommunication, facility, and land development needs. Last year, the engineering firm was ranked in the Engineering News-Record's list of the top 500 engineering firms in the country. The firm offers a comprehensive benefits package and partnered with Utilities Employees Credit Union to fulfill the company's desire to offer nationwide access to credit union financial benefits for KCI's 1,000 employees, who are dispersed across the eastern and central U.S. New employees will be eligible to join the credit union as well, as KCI continues to expand its firm into new locations.
UECU provides nationwide access to financial products and services, credit counseling, and financial education to utility workers and energy workers. The credit union offers additional employee promotions, benefits support, and financial education services to companies that offer membership as an employee benefit. Some companies offer UECU membership as a stand-alone benefit, while others incorporate it as part of a company financial wellness program or employee assistance program.
To obtain information on providing free employee financial benefits through Utilities Employees Credit Union, companies in the utility, energy, or related industries can visit benefits.uecu.org or call 800-288-6423, extension 6034.
About Utilities Employees Credit Union:
Utilities Employees Credit Union is a nationwide, virtual credit union providing financial services to utility and energy workers and their families since 1934. Its membership includes the employees of 600 companies and members of Energy People Connect, an association for individuals currently employed or pursuing employment in the energy industry. UECU is among the two percent of U.S. credit unions to receive an A "Excellent" Weiss Rating for financial soundness and one of the few financial institutions to reward its members with a year-end bonus dividend, which last year totaled nearly $1 million.
###