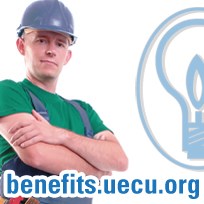 Our credit union's goal is improving our members' financial wellness. It is wonderful when that goal is shared by our business partners like Berkshire Gas.
Wyomissing, PA (PRWEB) December 06, 2013
Utilities Employees Credit Union (UECU), the billion dollar credit union serving America's utility industry, has begun a partnership with Massachusetts-based Berkshire Gas, to provide Health Savings Accounts (HSAs) that supplement 2014 health care benefits for gas company workers and their families. UECU provides utility, energy, and related-industry companies with voluntary benefits they can extend to workers and their families, to promote financial wellness, reduce company health care costs, and enhance worker productivity.
"A large part of the credit union philosophy is centered on improving financial wellness in all its forms, for our members and their families," says Janene Naugle, Business Development Associate for UECU. "It is wonderful when that goal is shared by our business partners like Berkshire Gas. They believe that the health and financial wellness of their employees is important. So do we."
Berkshire Gas began offering UECU Health Savings Accounts to its employees earlier this month, when UECU representatives visited their Pittsfield, Massachusetts headquarters to participate in their open enrollment meeting for 2014 employee benefits. Berkshire Gas is taking the opportunity to contribute to its employees' Health Savings Accounts, to which employees may also make tax deductible contributions. The company promotes employee wellness through its benefits package and wanted to ensure staff and their family members would also have a strong tool to save effectively for their medical expenses and easily access their health funds. Berkshire Gas's eligibility for UECU membership as a utility company affords them a benefits partnership including an easy roll-out option for employee health savings.
UECU, which has been a nationwide provider of financial wellness benefits to utility and energy industry employees and their families since 1934, recently enhanced its Health Savings Account product. Earlier this year, the credit union added new convenient purchasing and cash access options for members who use a Health Savings Account to fulfill their qualified health expenses.
UECU members earn interest on their HSA funds and can choose from several ways to contribute to their account, including payroll deduction, check deposits, electronic fund transfers, and employer deposits for companies that contributes to worker health accounts. Now, UECU members will also be able to easily obtain ATM cash or directly make purchases using UECU's free Advantages VISA® Check Card™, which offers them rewards on signature-based, qualified health purchases. Like other Health Savings Accounts, UECU's account is for individuals with a high-deductible health care plan that meets federal guidelines required for receiving HSA benefits including tax-deductible contributions and tax-free distributions for qualified medical expenses.
In recent years, UECU has increasingly seen its financial services intersect with the needs of workers in America's utility and energy industry. During a period of extended economic challenges for many U.S. families, many workers are showing signs of financial distress that follow them while they're on the job. Worker health and benefits studies such as the annual MetLife Employee Benefits Study report lost productivity, employee absences, and increased health care costs related to financial stress.
UECU provides checking and savings accounts, lending products, low-rate credit cards, home and mobile banking service, credit counseling, online budgeting and personal finance tools, and financial education, to utility and energy workers across the nation. The credit union offers additional employee promotions, benefits support, and financial education services to companies that offer membership as an employee benefit. Some companies offer UECU membership as a stand-alone benefit, while others incorporate it as part of a company financial wellness program or employee assistance program.
To obtain information on providing voluntary, no-cost employee financial benefits through Utilities Employees Credit Union, companies in the utility, energy, or related industries can visit benefits.uecu.org or call 800-288-6423, extension 6034.
About Utilities Employees Credit Union:
UECU was formed in 1934 to fulfill the financial needs of America's utility workers and their families. Now a billion dollar financial institution, UECU serves its 44,000 nationwide member clientele as a virtual-service, branchless credit union, from a single headquarters in Wyomissing, Pennsylvania. Without shareholders or branches to maintain, UECU returns profits to its member-owners, with financial rewards and excellent rates on its loan, credit card, savings, and checking products. Members have access to a wide array of mobile and online banking services and exclusive benefits including financial education, wealth management, investment services, and scholarships. UECU is among the two percent of U.S. credit unions to receive an A "Excellent" Weiss Rating for financial soundness and one of the few financial institutions to reward members with a year-end bonus dividend, totaling at $3 million in member bonuses since 2011. Visit http://www.uecu.org for more information.
About Berkshire Gas:
Berkshire Gas provides natural gas service to more than 37,000 residents in 20 cities and towns in western Massachusetts. With a distribution system comprising some 750 miles of natural gas mains, the company uses state-of-the-art equipment to assure reliable uninterrupted service to its residential, commercial and industrial customers. Berkshire Gas values the long-standing relationships it has built over the years with customers in the region and beyond. The company looks forward to meeting the energy needs of its customers as it has for more than 160 years. Berkshire Gas' parent company, UIL Holdings Corporation, is traded on the New York Stock Exchange under the symbol UIL.
###