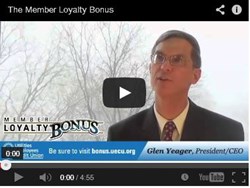 This is how the co-operative financial model works – the more you use your Credit Union, the more you benefit.
Wyomissing, PA (PRWEB) January 08, 2014
Utilities Employees Credit Union (UECU) members throughout the nation rang in the New Year with a cash bonus totaling $800,000, which was distributed among member accounts at the end of 2013. UECU, the virtual credit union serving the U.S. utility and energy industry, announced the payout for its third annual Member Loyalty Bonus™ in a December interview with UECU President / CEO Glen A. Yeager, posted on the UECU YouTube Channel at http://www.youtube.com/user/UECUorg.
"The Member Loyalty Bonus™ was purposely designed to reward both members who actively save at the credit union and members who come to us when they need to borrow," says Yeager. "Over the last three years, we've paid $3 million in bonuses."
UECU members received their first Member Loyalty Bonus™ at the end of 2011 as a surprise "bonus dividend" to reward their year-long patronage of the credit union. UECU has since continued the program as an annual reward opportunity – each individual's Member Loyalty Bonus™ is based on a percentage of the interest they earned on their UECU deposit accounts or paid on their UECU loans throughout the year. By increasing their use of financial products and bringing their loans from other financial institutions to UECU, the credit union's members can add to their year-end bonus earnings. Members can learn more about the program and calculate potential rewards at UECU's Bonus website, http://bonus.uecu.org.
"Even though UECU's deposit and loan rates are superior to the market, we wanted an additional way to express our appreciation to the loyal member-owners of the Credit Union," says Yeager. "It's simple for members to increase their bonus and other rewards – they just need to partner with us for more of their financial needs. It's how the co-operative financial model works – the more you use your Credit Union, the more you benefit."
A cooperative financial institution formed in 1934 to serve America's utility workers and their families, Utilities Employees Credit Union today offers a wide variety of online and mobile financial services, and serves its nearly 45,000 members from a single headquarters in Pennsylvania. Without shareholders or branches to maintain, UECU's operating expenses are lower than those of a typical financial institution, allowing the credit union to return a greater share of profits to its member-owners. During 2013, the average UECU member household enjoyed an extra annual return of $227 in deposit earnings and loan interest savings, as well as $72 more in fee savings, compared to the average credit union household measured by Raddon Financial Group. UECU further rewards its members' financial activities with three ongoing reward programs, including its loyalty bonus.
With the debut of the Member Loyalty Bonus™, UECU joined an elite group of credit unions across the United States to offer this type of patronage refund or bonus dividend reward. According to Callahan & Associates, in recent years, less than one percent of the nation's 7,000 credit unions consistently paid some form of bonus dividend.
To learn more about Utilities Employees Credit Union, visit http://www.uecu.org. Utility companies and related industry organizations interested in offering UECU financial benefits to their employees may call 800-288-6423 ext. 6034 or visit benefits.uecu.org.
###