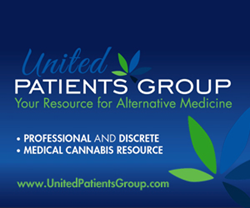 This virtual hand-holding is what is needed in the industry today, and we're happy to fill that niche.
San Francisco, CA (PRWEB) August 09, 2014
During the month of August 2014, United Patients Group (UPG) is running an educational campaign that emphasizes its pioneering high-touch way of conducting business that advertisers, patients and caregivers respect and expect.
"We offer guidance and support from the moment you contact us until you reach your own comfort level," said John Malanca, owner and founder of UPG. "Our niche is a unique business model, so people are confused. Our team is constantly fielding inquiries from people who ask where our dispensary is located, or want to know which products we carry."
Malanca says the majority of our callers are seeking help for seriously ill patients who are living with debilitating conditions like epilepsy, cancer, pain and auto-immune conditions.
"These patients and their caregivers are often desperate and confused about the cannabis treatment process," said John. "We do much more than just point them in the right direction––we provide one-on-one guidance and support until they are comfortable with the process."
John said the emotional element of dealing with chronic disease is often absent or forgotten in the medical field, so he and his staff make themselves available by phone or Skype to listen and provide needed empathy and guidance. "This virtual hand-holding is what is needed in the industry today, and we're happy to fill that niche."
UPG will highlight the following patient and business service offerings during the next few weeks:
UPG PATIENT SERVICES
UPG is a one-stop resource for information and guidance for patients or caregivers in all stages of the cannabis treatment process. UPG helps facilitate patient choices in the following ways:

The UPG Website encourages those considering medical cannabis therapy to stop by the group's 'Patients Room' for answers to common questions about getting started. Check out UPG's 'Resources' page for more detailed information.
One-On-One Consultation by UPG offers emotional and logistical support to medical cannabis patients in the U.S. and worldwide. People who seek out cannabis treatment are going through very difficult times—emotionally and physically—and the array of treatment options and products can be overwhelming. As dedicated patient advocates, the staff at UPG is available to listen and give empathetic support.
A 'Virtual Hand' is extended by UPG that guides patients and caregivers through the entire cannabis consideration, acquisition and consumption process. A one-hour phone or Skype consultation helps patients decide if cannabis is right for them or a loved one, gives ways to find local cannabis providers, teaches how to get registered and identifies the best product and ingestion method to consider. UPG also does a follow-up check with patients once they get started.
Click here to schedule an appointment.
United Patients Group Seal of Approval -
With numerous cannabis-related brands and cannabis products available, it is difficult for patients and caregivers to decide which ones are reliable and effective. UPG has the expertise to connect them to quality oil makers and trusted product companies. UPG analyzes every product it recommends and awards the best of the best with the United Patients Group Seal of Approval.
UPG BUSINESS MARKETING SERVICES
UPG is a full-service marketing and advertising firm that helps individuals and companies get in front of cannabis patients who use the UPG Website for information and guidance. On and offline, UPG is a leading industry resource for medical cannabis products and medicinal cannabis organizations worldwide.
Here are some ways UPG helps medical cannabis companies serve patients:
The Right Audience comes from patients who rely on UPG to recommend the best products and services for their medical cannabis treatments. Companies that offer an amazing product or service receive the United Patients Group Seal of Approval that helps propel their business to the next level.
Marketing Muscle of UPG is backed by more than 30 years of marketing and advertising expertise. UPG offers various levels of advertising and packages best suited for your specific business model and budget. UPG can help make a big splash if launching a new company or product. Visit our Advertising page to learn more.
Looking to make in-house marketing efforts more effective? UPG offers consultations on strategic planning, social media, branding, forming partnerships and more. Contact UPG for details.
Partnering with Like-Minded Businesses -
UPG's mission is to provide the best guidance and advice for cannabis patients around the globe while highlighting products that are safe, trusted and accessible. UPG runs its business the old-fashioned way––by listening to its clients and truly caring about the patient's health. UPG partners with like-minded businesses to help them spread the word and help medical cannabis patients find the right products that help them get the relief they deserve.
For more information about medical cannabis or the United Patients Group Seal of Approval, visit http://www.UnitedPatientsGroup.com.
About UnitedPatientsGroup.com:
UnitedPatientsGroup.com is a discreet, safe, and professional online medical cannabis information resource for prospective and current patients, caregivers, and medicinal cannabis industry professionals.
While most online medical marijuana sites cater to patients already familiar with medical marijuana, the UnitedPatientsGroup.com website is a comprehensive and easy-to-use information source for people of all ages and experience levels, from novice medical cannabis users to experienced industry professionals. The site's News, Resource, and Blog pages introduce new patients to the ins and outs of medical marijuana healthcare, while helping experienced providers stay abreast of the latest developments in THC and CBD therapies.
A complimentary Five Star-rated United Patients Group medical marijuana app is available on the iTunes app store for iPhone 3GS, iPhone 4, iPhone 4S, iPhone 5, iPod touch (3rd generation), iPod touch (4th generation) and any iPad.