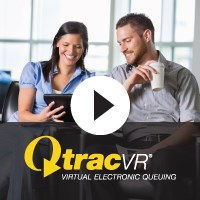 Virtual queuing allows businesses to stay one step ahead of the customer through impressive technology while also enabling customers to feel like they're in control of their own waits
Valencia, CA (PRWEB) November 05, 2013
Lavi Industries' QtracVR virtual queue management system has revolutionized the act of queuing across industries by eliminating the waiting line. The just-released QtracVR demo provides valuable information to help businesses understand how they can eliminate the need for a physical waiting line.
The slideshow – titled "The Freedom to Wait without Waiting in Line" – outlines the benefits and logistics of implementing a virtual queue, as well as the resulting positive impact on an enterprise as a whole. A virtual queue can enhance the customer experience, especially by connecting with people through mobile devices and online, as well as reduce perceived wait times, boost impulse purchases, maximize customer flow, and increase service efficiency and customer engagement.
The slideshow overview makes the idea of a virtual queue accessible and feasible to all businesses, regardless of the type of industry in which they belong. It's easy to understand exactly how the virtual registration process works, its flexibility, and how it plays out across an entire transaction – from customer to service agent, from hailing the customer to communicating with the customer, from mobile interfaces to real-time reporting.
"The Freedom to Wait" answers the most common questions businesses have about virtual queuing, making it clear that this level of customer engagement is not impersonal but rather very personal, targeted, and beneficial to a business's success and a customer's happiness and loyalty.
"Virtual queuing allows businesses to stay one step ahead of the customer through impressive technology while also enabling customers to feel like they're in control of their own waits," says Perry Kuklin, Director of Marketing and Business Development for Lavi Industries. "The frustration that can develop in a waiting line is eliminated when customers are given the freedom to wait as they please."
This slideshow is available for viewing on Lavi's Slideshare channel or on the Lavi website at lp.lavi.com/qtracvr.
About Lavi Industries
Based in Valencia, California, Lavi Industries is the premier provider of queue management, public guidance, and crowd control solutions in North America. Leveraging its portfolio of world-class brands – Beltrac® stanchions, Directrac® signage systems, Qtrac® electronic queuing systems, and NeXtrac® in-line merchandising systems – Lavi has helped the world's leading companies effectively guide people in, through, and out of their facilities. More information is available at http://www.lavi.com/.