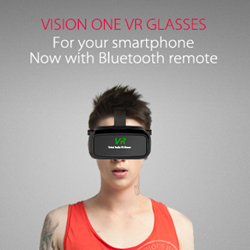 More than 200 apps are now available that support our cardboard and Vision One virtual reality glass
Shenzhen, Guangdong (PRWEB) December 18, 2015
The public enthusiasm for virtual reality (VR) devices started some time ago; however, it wasn't until 2014 when people started to realize the potential of these futuristic high tech devices.
However, this product category truly took off when more affordable alternatives video glasses became available from China. One good example is the cardboard VR glasses that you can simply fold and built yourself at home and insert your smartphone.
With a number of big tech firms due to launch high end Virtual Reality Headset in 2016 the market is set to become a lot more competitive.
"Compared to high tech devices with a 'to be determined' price tag of probably a few thousand US dollars, virtual reality headsets such as the Chinavasion Cardboard VR is available for under 10 US dollars," says Ms. Rose Li, public relationship manager at Chinavasion.
She adds, "The advantage of using smartphones as a medium is that it already contains gyroscopic sensors and positioning systems that can accurately track your head movements. In this way you can avoid having to pay for such technology separately."
The wholesale company based in China also offers other alternatives such as the Vision One VR glasses that come with a Bluetooth remote control. The added value of a remote control is that you can now avoid the hassle of taking the headset on and off to control the phone inside. "This makes watching movies and playing your favorite games so much easier," says Rose Li.
While many consumers may delight at high end options finally coming to the market, Chinavasion expects it to be some time before these are available for the mainstream consumer. "While big brands will dominate the headlines there will be a limited number of users with the disposable income to afford the big brand VR headsets, this means many will turn to cheaper alternatives to try out this fun technology," Ms Li advised.
The main benefit of smartphone based VR glasses, after affordability, is that there's a whole online community of developers out there who create cool content and apps to enjoy in a virtual reality environment through the glasses. "More than 200 apps are now available that support our cardboard and Vision One virtual reality glass", says Rose Li.
2016 VR Glasses to become mainstream.
Chinavasion is very positive about the virtual reality tech market in 2016. "VR glasses are good, so good that we believe this category of products will go mainstream in 2016," says Ms Li. She explained, "First of all, the high tech standalone devices will hit the market with heavy price tags; this will only boost the demand for the smartphone based Virtual Reality headset."
This predicted trend is also supported by more and more users owning a smartphone with a gyroscopic sensor and positioning system." The wholesale electronics company expects the amount of VR apps to at least triple to over 600 over the next year and will be one of the driving forces in the markets development.