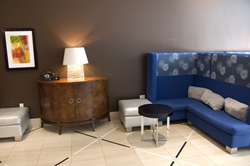 9 out of 10 potential home buyers now use the Internet in their real estate search process -National Association of Realtors
(PRWEB) January 31, 2015
IndiaCADworks is pleased to announce the immediate availability of advanced virtual staging services that are designed to provide economical solutions for real estate professionals, interior designers, furniture retailers and manufacturers throughout the world. Physical staging solutions often cost thousands of dollars and frequently take several days to complete — in contrast, virtual staging services provided by IndiaCADworks typically cost hundreds of dollars (or less) and can be finalized overnight in most cases.
In January 2013 National Association of Realtors reported that 9 out of 10 potential home buyers now use the Internet in their real estate search process. Photos of homes can make or break a potential sale — images of empty rooms in vacant houses and poorly accessorized homes are both ineffective in catching the immediate attention of discerning buyers. IndiaCADworks has applied their extensive experience in 3D rendering to cost-effectively solve this dilemma for real estate businesses — saving time and money for CAD-service outsourcing clients while simultaneously improving sales results.
In an increasingly visual world, the specialized virtual staging services supplied by IndiaCADworks can make the critical difference between losing a sale and closing the deal. July 8th 2012, a survey reported by the Chicago Tribune, 100% of potential buyers said that virtual staging helped when viewing new listings. The figure dropped to a still-impressive 77% for old listings. Real estate industry statistics consistently reveal that staged homes sell more quickly and for a higher selling price than vacant or non-staged homes — virtual staging solutions provided by IndiaCADworks are faster, cheaper and more flexible than the "old-fashioned" approach of physical staging.
As noted by a senior operations manager at IndiaCADworks, "Home staging projects handled by IndiaCADworks feature stunning and realistic images that are designed to help buyers visualize their new home. We provide a comprehensive furniture gallery and 2D floor plans — customized 3D modeling can be provided upon request when unique furniture choices are desired by the customer. Our team is comfortable working with individuals, small business owners and Fortune 1000 executives worldwide."
IndiaCADworks provides a choice of pricing plans for its virtual staging solutions — per image, hourly and full-time-equivalent pricing. If clients are uncertain about which option to choose, IndiaCADworks can provide cost estimates using all three approaches. The dedicated team of CAD experts at IndiaCADworks is available on a 24/6 basis.
Virtual staging services offered by IndiaCADworks will provide benefits to a wide group of stakeholders that include real estate agencies, furniture manufacturers and retailers, home staging companies, interior designers and individual homeowners.
For more information visit: http://www.indiacadworks.com/3d-rendering/virtual-staging.php
About IndiaCADworks:
IndiaCADworks is a world-renowned CAD outsourcing company headquartered in Bangalore, India — additional delivery centers are based in Mumbai, Hyderabad and Pune. Companies that outsource to virtual staging to IndiaCADworks typically save 40% to 60%. For over a decade, IndiaCADworks has provided world-class CAD services to clients around the world.