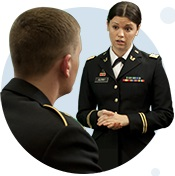 What SIMmersion has to offer is truly unique
Columbia, MD (PRWEB) November 17, 2014
There is a renewed emphasis both in the military and business communities on communications skills, often called soft skills. As the U.S. defense industry priorities shift more towards peace keeping and working closely with coalition partners, soft skills are becoming a more critical part of the mission. Warfighters must learn new challenging technical skills but now must also utilize soft skills to work with people from other cultures. As business face new challenges and more business is done across borders, there is an ever increasing demand for soft skill training. Whether in the military or business communities, a higher demand placed on technical skills leaves less time for learning essential soft skills, such as leadership, negotiations, coaching, and selling. The current generations of learners require more effective and more engaging training to learn these skills quickly without undue study burdens. The technology SIMmersion will introduce at the Interservice/Industry Training, Simulation and Education Conference (I/ITSEC) will help fill this pressing need.
At the I/ITSEC, SIMmersion will be introducing its first fully gamified soft skill training system. The new system introduces a variety of gaming elements into the company's PeopleSim® technology, including online competition and a series of achievement awards. After one of SIMmersion's highly interactive training systems was named a finalist in last year's International Serious Games Showcase and Challenge at the I/ITSEC, SIMmersion took a major step forward by introducing more gaming elements that engage trainees and stimulate hours of what seems like game play, but is, in fact, intensive training. This new technology will be invaluable for both defense and business.
Research in soft-skill training shows that studying and attending workshops rarely result in a real change in behavior. "It's difficult for anyone to change a lifetime of the way they interact with others as a result of reading or hearing a lecture even when accompanied with role plays," says Dale Olsen, PhD, President of SIMmersion, "but research at Northwestern University and the University of Wisconsin—Madison shows that training with our simulations produces real change." SIMmersion systems are effective because they provide for repeated practice with ongoing feedback in addition to the usual educational material.
SIMmersion's PeopleSim® technology is focused on creating people who appear to be real and who respond like real people involved in a real discussion. Video is used to capture all the realism necessary to achieve the accurate appearance and authentic voice intonations. In any one play of the simulation, the on-screen person's personality has been randomly selected. The response to the learner is unpredictable, but is driven by evaluating the conversational history and evolving simulated feelings towards the learner, as well as the selected personality. A standard computer microphone is used to speak to the simulated person. When I/ITSEC visitors watch SIMmersion's demonstrations, they often think there is a role player at some remote location responding to the learner's questions and statements. A role player would be much more expensive and could not always provide the realistic responses or the feedback required. The simulation only requires a web connection and can be played anytime or anywhere. "What SIMmersion has to offer is truly unique," says Olsen. "We look forward to unveiling our latest innovations to industry and DoD at this year's I/ITSEC."
About SIMmersion
SIMmersion's mission is to train communication skills faster and more effectively by combining the world's most realistic simulated experiences with highly interactive training content and extensive user feedback. For more information, visit http://www.SIMmersion.com or call 443-283-2555.