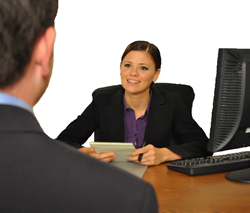 Columbia, MD (PRWEB) May 22, 2015
How can the US increase the share of individuals with disabilities, from autism spectrum disorders to mobility limitations to veterans with post-traumatic stress, who are employed in the competitive workforce and making minimum wage or better?
This is the key question before the Advisory Committee on Increasing Competitive Integrated Employment for Individuals with Disabilities, a group of national experts assembled through the Workforce Innovation and Opportunity Act (WIOA) of 2014. SIMmersion was honored to be selected to address the committee on May 11 about its evidence-based virtual simulation Job Interview Training with Molly Porter and the role technology can play in increasing opportunity for people with disabilities.
In Job Interview Training, users practice interviewing for competitive integrated employment with Molly Porter, a virtual HR manager with a thousand common interview questions and follow-ups at her disposal. The simulated course—available on PCs, Macs, and iPads— was developed by SIMmersion with experts from Yale and Northwestern Universities and funding from the National Institute of Mental Health (Grant #R44 MH080496).
The capabilities of Job Interview Training with Molly Porter aligned closely with the findings and recommendations presented by several of the subcommittees. Here are several examples of where a need identified by the committee matches with what the virtual system offers:

"The Vocational Rehabilitation system faces challenges assisting people with significant disabilities in getting employment… Only 32% of cases end with the person receiving services finding employment."
In two studies, Northwestern University compared real-world employment outcomes of jobseekers with disabilities who used Job Interview Training and individuals with similar disabilities who did not.
The more interviews with Molly a person conducted, the shorter his or her job search was. After six months, people who had used the course were an average of nine times more likely to have received a competitive job offer than peers without the training. These published findings have been replicated in several populations, far surpassing the 32% success rate of conventional vocational rehabilitation programming.
"Employees with significant disabilities exceed expectations on the job… [But] during job interviews, applicants emphasize what they cannot do versus that they can accomplish."
Learning how to avoid common errors in interviews can make a jobseeker more competitive for the rest of his or her life. Research shows that Job Interview Training gives users the repeat practice and feedback needed to build lasting skills and confidence, breaking through the interview barrier to demonstrate their capabilities on the job. An on-screen coach supports users at every exchange, and three difficulty levels—Easy, Medium and Hard—let users build mastery over time.
"Knowledge and training of Vocational Rehabilitation counselors is inconsistent…"
Effective job coaches can work wonders for their clients, but finding enough individuals with the talent and training to meet demand is a huge challenge for service organizations. Job Interview Training with Molly Porter changes the dynamic by providing a consistent, comprehensive training experience every time and the same level of detailed, objective, constructive feedback to every user. The simulation reduces the burden on Vocational Rehabilitation counselors to be the sole source of interview practice and coaching for people with disabilities.
"Local and State Service Capacity are insufficient to meet demand for services…"
Interview preparation is a crucial piece of increasing competitive integrated employment, but in-person role-plays and coaching are too time- and resource-intensive to scale with demand. Job Interview Training with Molly Porter can be delivered at scale anywhere in the country, including rural or underserved areas. People with disabilities can get the training they want, when they want it by role-playing with Molly as often as desired, with no reliance on transportation or a VR counselor's schedule. No matter when or where clients play, counselors can stay informed about their performance with cloud-based tracking tools and visualizations.
As Secretary of Labor Tom Perez says, "Competitive integrated employment works — for individuals, for employers and for society." SIMmersion was proud to contribute to the conversation with the Advisory Committee about the role Job Interview Training can play in making the dream of employment a reality for jobseekers with disabilities nationwide.
About SIMmersion
SIMmersion's mission is to train communication skills faster and more effectively by combining the world's most realistic simulated experiences with highly interactive training content and extensive user feedback. For more information, contact SIMmersion online or at 443-283-2555.