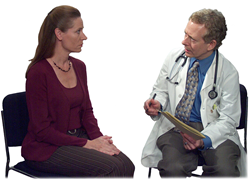 Even brief advice about obesity from health professionals can have a meaningful impact
Columbia, MD (PRWEB) September 30, 2014
The average pediatrician sees roughly thirty patients a day—toddlers, teens and everything in between. For nearly a decade, one stubborn fact has been true about those thirty young patients: roughly six of them have been obese, according to the Centers for Disease Control and Prevention (CDC). With 12.7 million children and adolescents coping with obesity, and millions more overweight, what can primary care health professionals do to make a dent in the epidemic?
Encouraging research shows that health professionals are influential in the lives of families, and that even brief advice about obesity can have a meaningful impact if delivered well. Lack of knowledge and skill in what to say on the sensitive topic, however, keeps most practitioners from routinely addressing obesity prevention and treatment.
To address this gap, SIMmersion has been funded by the CDC to develop and evaluate a comprehensive virtual reality training system to help health care providers conduct effective conversations with parents and children about obesity (contract # 9R44DP005954-02).
The Training System
For this system, SIMmersion will leverage twelve years of simulation technology to develop multiple role-play conversations with virtual parents and children. Interactive educational materials and repeated practice in realistic patient encounters will give providers skills and confidence they can take to real-world practice.
"A big challenge for providers is to talk to a parent about an obese child," says Dale Olsen, Ph.D., President of SIMmersion. Parents' reactions could be unpredictable, from minimizing the diagnosis to disputing it to taking offense. SIMmersion's PeopleSim conversation engine allows virtual characters to respond differently in each conversation to capture a whole range of realistic scenarios. By empowering providers with strategies for how to continue the conversation in a productive way regardless of parent reaction, SIMmersion's system will help more providers feel confident in raising the topic.
The three role-play practice simulations will allow providers to practice (1) sharing concerns about a child's weight with a parent, (2) conducting a follow-up visit with the parent of an overweight child a month after the initial discussion regarding weight, and (3) involving the child in a conversation about healthy choices. Constructive feedback throughout the role-play conversations will ensure that every teachable moment supports the skill building. An on-screen coach, descriptive scoring, and replay features will provide impactful feedback.
Training Evaluation
A joint university research team will evaluate the effectiveness of the completed product. One hundred health care providers will be randomly assigned to a training–as-usual control group or a group that will receive access to the new training. To assess their baseline skills at talking about obesity, all participants will complete interviews with so-called "standardized patients," specially trained actors who behave like real-world patients. All participants will complete a second round of standardized patient interviews after the experimental group has had the opportunity to take SIMmersion's training. Each interview will be documented and scored on defined skill criteria.
The team hypothesizes that providers who take the training will show improvement in their skills at talking about childhood obesity with patients and parents, and that they will be more effective than their peers who did not take the training.
By training providers in best practices for talking about prevention and treatment, SIMmersion's course could help providers nationwide curb rates of childhood obesity, one patient and one family at a time.
About SIMmersion
SIMmersion's mission is to train communication skills faster and more effectively by combining the world's most realistic simulated experiences with highly interactive training content and extensive user feedback. For more information, contact SIMmersion online or at 443-283-2555.