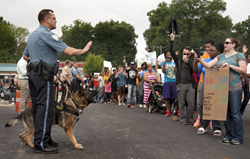 "Mathematical models of emotions are used to determine the way the on-screen virtual person responses to a trainee's statements, much as mathematical models are used to determine the way a plane responds to the pilot in a flight simulator
Columbia, MD (PRWEB) December 19, 2014
When police officers in Ferguson, MO, or any other 900,000 officers in towns or cities in the U.S. talk with someone who views police as the enemy, the potential for confrontation is high and has resulted in deaths. How can police officers learn how to talk to citizens more effectively? Do the conversation increase hostilities or start to bridge a cultural gap? What is clear is that better communications skills on everyone's part would reduce violence and make our communities better. SIMmersion has developed technology that can help address this difficult issue by providing better conversational training for officers.
In policing, conversational skills can make a life or death difference. In other situations, such in drug interventions or simply communication more effectively as a teacher, the conversation may not be a matter of immediate life or death, but can seriously affect the quality of people's lives. Conversational skills cannot be trained with a PowerPoint® presentation; repeated practice with feedback is essential. Role plays don't provide sufficient practice or feedback and that's where SIMmersion's PeopleSim® technology is so important. This groundbreaking technology is used to create virtual reality characters such as a gang member who appears and behaves realistically. Just like a flight simulator must create the sense of flying, the conversation simulator must be able to create a sense that the user is talking to a real person. To be effective, the appearance and behavior of the simulated person must create what seems to the trainee like real experiences.
Both the police officer and people in the community have emotions, mood swings and mixed feelings about things, and are often unpredictable. They respond one way in one situation and differently in another. SIMmersion utilizes the input from subject matter experts and latest PeopleSim® technology to successfully capture real people's behavior. "Mathematical models of emotions are used to determine the way the on-screen virtual person responses to a trainee's statements," explains Dr. Dale Olsen, President of SIMmersion, "much as mathematical models are used to determine the way a plane responds to the pilot in a flight simulator." If SIMmersion is simulating someone who with hostile feelings towards police, those feelings and the direction of the conversation can be affected or even changed by saying the right things, much like adjusting the controls of the plane changes its path. This added realism is needed to provide trainees the experiences to develop the skills and confidence required to deescalate difficult situations and to help break down cultural barriers. SIMmersion has built systems aimed at breaking down such barriers for various government clients where the cultural divide is international.
Characters are portrayed in video by actors instead of by avatars to provide the most realistic conversational experience possible. Feedback is provided by a coach who gives insights into what the trainee said and how the on-screen character is responding. Trainees can say what they want, when they want within the framework of a very rich script. This learning model helps them learn what to say and, equally important, what not to say and why. Unlike on the street, in a simulation, mistakes don't result in a harmful confrontation, but do provide detailed and valuable feedback.
The crime rate is dropping in the United States. While the Community Oriented Policing Services (COPS) should be given some of the credit, more can be done. According to the COPS website "Training programs should … encourage a proactive and collaborative approach to responding to concerns identified by the community, communicating through a variety of different methods. Research at Northwestern University and the University of Wisconsin show that SIMmersion's PeopleSim® Technology effectively builds skills in a wide variety of groups. As the events in Ferguson and elsewhere show, there is a need for innovative solutions to increase communication skills in difficult, high-stakes situations and in our communities more generally.
About SIMmersion®
SIMmersion's mission is to train communication skills faster and more effectively by combining the world's most realistic simulated experiences with highly interactive training content and extensive user feedback. For more information, contact SIMmersion™ online or call 443-283-2555.
*Photo Source: AP Photo / Sid Hastings