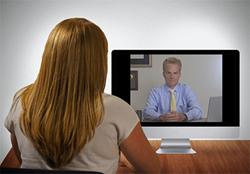 I've found an online role-play skill building system that provides more feedback and coaching than we are usually able to provide in the classroom.
Columbia, MD (PRWEB) October 14, 2014
How do you practice a social skill like sales? Traditionally, there have only been two ways: learning by trial and error with real customers and role-playing with peers or mentors. Learning with real customers is a high-stress, high-risk activity with no guarantee of clear feedback on how to improve. So, live role-plays have been the default for decades, despite their limitations.
"We think role-playing is essential, but we're aware of the challenges and limitations of classroom role-plays," says David Zehren of Zehren-Friedman Associates, a firm with over twenty years of experience training communications skills throughout the United States and in more than a dozen other countries. "The role-play experience for each seminar participant is heavily dependent on how effectively a colleague or a manager plays the role of customer, and the quality of the coaching and feedback the colleague provides. Listening to a recording of the role-play is helpful, but you don't get to make that practice call again and again." In-person training sessions also involve significant time away from the job and divert training dollars to travel, accommodations and food instead of to instruction and skill development.
A new partnership between SIMmersion and Zehren-Friedman represents a ground-breaking blended alternative to traditional skill-building in the sales world. The virtual training course Supportive Selling with Dan Williams lets students gain realistic practice with a simulated buyer, Dan Williams. Extensive coaching and feedback is built in to the simulation experience, allowing time spent in the classroom to be minimized.
"Dan Williams is one of our most advanced simulated characters in twelve years of creating simulations," says Dale Olsen, Ph.D, President of SIMmersion. "Each play through of Supportive Selling will be a new experience students can return to many times to keep building skills."
Students who practice with Dan get experience at drawing out buyers' needs and using research-tested techniques to effectively respond to those needs. They receive ongoing feedback from an on-screen coach who reinforces good choices and gives constructive feedback on where to improve.
At the end of each conversation, users receive a detailed after-action review and see how much simulated commission they earned. Then, they can compare their commission to a global leaderboard of other Supportive Selling users. Achievements are awarded for accomplishments during the conversation. As a finalist in the International Serious Games Showcase and Challenge, SIMmersion has a track record of marrying rigorous training content with the engagement factor of video games, an approach the company has continued with Supportive Selling with Dan Williams.
"When I first encountered Dan Williams," recalls Zehren, "I called Joe [Joe Friedman, partner at Zehren-Friedman] and said, 'Holy cow, I've found an online role-play skill building system that provides more feedback and coaching than we are usually able to provide in the classroom.'"
Zehren explains that this virtual tool, which allows students to gain additional practice and refresher training, represents extra value that clients can take away from his firm's popular seminars. Zehren-Friedman Associates leveraged their expertise creating skill-building seminars to develop a new blended curriculum that pairs the best in in-person instruction with the high-quality replay value and feedback of Supportive Selling with Dan Williams.
"We're delighted to have the support of a firm like Zehren-Friedman," says Olsen. "Their expertise and ability to connect to students on a personal level is a powerful complement to our technological solution."
Together, these organizations are combining next-generation technology with classroom training to help salespeople from all industries build the skills and knowledge they—and their businesses—need to thrive in the marketplace. For more information about Supportive Selling with Dan Williams, visit http://www.supportiveselling.com or http://www.zehrenfriedman.com.
About Zehren-Friedman Associates
For more than 20 years, Zehren-Friedman Associates has specialized in conversational communication skills training, in the form of skill building seminars focused on Selling, Presenting, Negotiating, and Influence. The firm has conducted seminars in every industry group and on every continent except Antarctica.
Zehren-Friedman Associates can help you and your organization sell, present, negotiate and influence better. Learn more at zehrenfriedman.com or by calling 847-940-7269.
About SIMmersion
SIMmersion's mission is to train communication skills faster and more effectively by combining the world's most realistic simulated experiences with highly interactive training content and extensive user feedback. For more information, visit http://www.supportiveselling.com or contact SIMmersion online or call 443-283-2555.