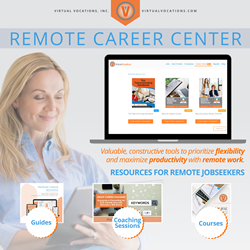 Virtual Vocations CEO Laura Spawn says the new Remote Career Center "provides access to incredible expert resources to help both new and continuing remote workers excel throughout their careers."
TUCSON, ARIZ. (PRWEB) March 15, 2021
Virtual Vocations aims to help new and continuing remote professionals take their careers to the next level with the launch of its new Remote Career Center.
Founded in 2007 by CEO Laura Spawn and CEO Adam Stevenson, Virtual Vocations connects jobseekers with legitimate, hand-screened remote job openings as one of the web's leading job boards for remote work.
This week, as part of the company's sixth annual Remote Work Week celebration, Virtual Vocations is officially unveiling its new Remote Career Center, a collection of more than 40 expert resources designed to help jobseekers navigate their online job searches and put themselves on the path to success.
Among the free and premium resources available now to Virtual Vocations members as part of the new Remote Career Center are:

Recorded coaching sessions to help both new and seasoned professionals successfully market themselves in today's remote job market;
Career guides designed to help jobseekers plan and optimize their remote job searches;
Exclusive webinars for both jobseekers and current work from home professionals;
Checklists, templates, and cheat sheets crafted to help jobseekers draft high-quality resumes, excel at remote interviews, and maximize their chances of landing the job; and
Virtual Vocations' full Telecommuting Handbook, a 50-page ebook filled with advice for work from home professionals, templates for requesting remote work arrangements, and much more.
The Remote Career Center also features downloadable, self-paced e-courses like the newly revamped "Optimizing Your Resume for Remote Work" course, which breaks down current best practices for resume writing in the digital workplace, and the freshly redesigned "Remote Job Search Strategies for Success" course, which covers the fundamentals of working from home, from how to identify job search scams to how to set up an ergonomic home office.
According to Virtual Vocations CEO Laura Spawn, the launch of the Remote Career Center comes as part of a continued effort to bring valuable, constructive resources to jobseekers and professionals looking to prioritize flexibility and maximize productivity with remote work.
"This new service provides access to incredible expert resources to help both new and continuing remote workers excel throughout their careers," Spawn said.
To see the full collection of expert-designed resources and learn more about what Virtual Vocations can do to help make your search for remote work a successful one, visit the Remote Career Center at: https://www.virtualvocations.com/remote-career-center/
ABOUT VIRTUAL VOCATIONS
Founded in 2007 by CEO Laura Spawn and her brother, CTO Adam Stevenson, Virtual Vocations is a small company with a big mission: to connect jobseekers with legitimate remote job openings. To date, Virtual Vocations has helped more than two million jobseekers in their quests for flexible, remote work.
In addition to providing a database that houses more than 40,000 current, hand-screened remote job openings at any given time, Virtual Vocations offers jobseekers a number of tools to aid in their job searches, including exclusive e-courses and downloadable content, and resumé writing services. Virtual Vocations also releases several data-driven reports each year on current trends in remote work.
Virtual Vocations, Inc. is a private, family-owned, and 100% virtual company incorporated in Tucson, Arizona.
PRESS INQUIRIES
Michelle Rawlings
michelle(at)virtualvocations(dot)com
1 (800) 379-5092 ext. 703
VirtualVocations.com