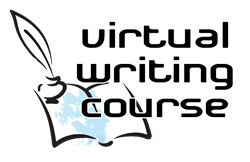 I have never seen a more detailed and professional online writing course, Virtual Writing Course is a must for any would-be best seller.
(PRWEB) June 03, 2014
The goal of the Virtual Writing Course program is to help aspiring authors share their ideas, memories, and stories by providing the knowledge and tools to put their message into book form. Each student will receive one on one writing directive from instructors who have more than 20 years of experience in the literary industry writing novels, ebooks and digital material. Whether attendees choose the fiction or nonfiction track, the curriculum provides everything needed to turn mere ideas into a manuscript that will become a book. Virtual Writing Course instructors share their expertise for writing your first work, getting published, and creating multiple bestselling books. The widely published editors and writers on staff offer individual instruction, critiquing, and mentoring, giving students the confidence to write in their unique style and voice.
Students will learn about key novel crafting aspects such as character development, writing dialogue, performing research, securing interviews, choosing settings, and appropriately incorporating plot points. The Virtual Writing Course also focuses on editing and revising a manuscript, contacting publishers, and working with other professionals in the publishing community, in turn providing the best of both worlds; the flexibility to study at home with the personal interaction of working with a mentor and instructor. Forums make it easy for students to get to know each other and collaborate on ideas while instilling a sense of community, comradery and networking.
Upon completion, graduates will receive an official accreditation certificate at the annual Readers Legacy Choice Awards in Las Vegas, Nevada. "I have never seen a more detailed and professional online writing course," said Ken Dunn, CEO of Next Century Publishing. "It is a must for any would-be best seller, we strongly encourage all of our authors to take this course."
Principles at Virtual Writing Course expect a large enrollment influx within the next 6 months and look forward to turning out high quality books and well educated authors over the next year. Registration is now open at http://virtualwritingcourse.com/.