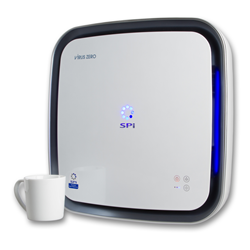 We're happy to say that Virus Zero works as advertised.
Billerica, MA (PRWEB) September 10, 2014
Virus Zero is excited to announce a new way to eliminate up to 99.7% of viruses, bacteria and other harmful contaminants found in the air we breathe. Without the use of loud fans and expensive filters, Virus Zero can reduce prevalent allergens, such as mold, dust mites, cigarette smoke, pet dander and odors with innovative Samsung SPi technology.
With allergy and flu season right around the corner, this is a must have if you find yourself constantly battling common allergy and flu symptoms. Virus Zero is certified worldwide for its ability to eliminate contaminants and harmful viruses including Influenza, MRSA, Corona and other seasonal sicknesses.
"My son has allergies, and his bedroom seems to be the worst," said customer Lew Sabbag from Reading, MA. "We placed the Virus Zero Portable in his room and now he sleeps better and wakes up less congested. We were skeptical because we had tried many other solutions over the years with less than favorable results. We're happy to say that Virus Zero works as advertised."
Exclusive to Virus Zero, the devices employ a brand new approach to air purification that uses unique Samsung SPi technology. Unlike most air purifiers that use filters to capture particles, the technology in the Samsung SPi cleans the air by releasing confirmed safe disinfecting ions (Hydroperoxy Radicals) that attack and neutralize airborne contaminates.
Virus Zero Managing Partner's, Scott Lattanzio and David Holzman, are thrilled to introduce this innovative technology to the U.S. because of its success internationally in airline travel, healthcare and transit markets. Due to SPi's varied uses in many applications, Lattaznzio and Holzman profoundly indicate that this technology is, "tried-and-true."
This technology is available in three convenient sizes, Virus Zero Portable, Virus Zero and Virus Zero Pro. Virus Zero Portable is ideal anywhere on the go. Designed to fit in car cup holders, it improves air quality in spaces up to 230 sq. ft. Perfect for bedrooms, offices, and even hotel rooms when traveling.
Virus Zero and Virus Zero Pro are suitable for larger areas, including homes, businesses and other commercial applications such as childcare, schools and elder care facilities. These devices improve air quality in areas from 600 sq. ft. to1166 sq. ft.
Everyone deserves to breathe healthy and pure air. Order your Virus Zero active air purification system today.