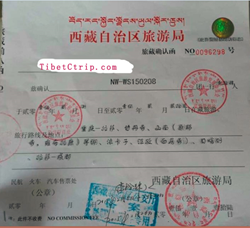 Tibet visa and travel permit, how to apply in 2015! Just follow www.tibetCtrip.com and you can avoid hassles.
Lhasa, Tibet (PRWEB) February 07, 2015
How to obtain a Tibet visa is a common concern amongst travelers planning their 2015 adventure. Depending on a groups' tour destination, multiple travel documents may be required. Fortunately for travelers, all that needs to be done is supply their tour operator with the necessary personal information, and the rest will be taken care of before arrival. Tibet Ctrip Travel Service -- TCTS (http://www.tibetctrip.com) -- shares the details.

At least 10 days before arrival, all travel group members must submit copies of their passport and Chinese visa. If the group is arriving overland from Nepal, a special Tibet group visa will be issued in Chinese consulate in Kathmandu, Nepal. It will be necessary to let TCTS know the occupations of each traveler as some individuals, such as journalists and foreign diplomats, need special permission to obtain a Tibet travel permit.
Travel outside of Lhasa requires an additional permit and travel to certain areas such as Mt. Everest and Mt. Kailash require another permit on top of that. TCTS will take care of the application and any applicable fees will be included in the tour price. The group's guide is required to hold onto these documents, so there's no need to worry about keeping track of them.
Those arriving for their Tibet tour over land from Nepal will meet their guide at the border; he or she will have the permit with them at that time. If the group is arriving by air from Kathmandu, the guide will take the original Tibet travel permit and meet them at the airport in Lhasa. If arriving from Mainland China, TCTS will ask for an address for the permit to be mailed. It will be required when checking in for flights or boarding trains.
For those who are just beginning to plan their tour, all the details involved with obtaining a Tibet visa can seem overwhelming. So long as the necessary documents and personal information are supplied, travelers can take comfort in knowing that their tour operator will take care of everything. Should any travel policy changes take place, TCTS will keep travelers up to date. With the 2015 travel season just months away, be sure to have group members' passports ready!
About tibetCtrip.com,
Tibet Ctrip Travel Service (TCTS) is one Lhasa based Tibet travel agency. TCTS's services experiences and tour offers are highlighted and professional. When booking a Tibet tour, travelers are suggested to inquire one agent that supports the Tibetan economy, culture and local Tibetan communities.