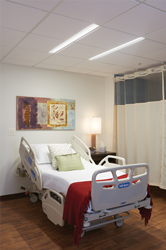 Lenga is designed to be as narrow as possible, weighing in at 3" wide and 4" in recessed depth.
MILWAUKEE (PRWEB) August 15, 2019
The Illuminating Engineering Society (IES) publishes its Progress Report every year to record new lighting products that have achieved "uniqueness, innovation, and significance to the lighting industry." This year, the 2019 IES Progress Report recognizes Visa Lighting's "Lenga," a dual-unit overbed slot luminaire for patient room lighting.
Lenga was engineered to provide multi-functional ambient and exam illumination for the patient room—while taking up as little space as possible.
In healthcare environments, overbed light fixtures need to provide enough light for caregivers to perform exams and evaluate patients visually. However, space on the ceiling plane and plenum is precious. Hospital overbed lights must compete with lift supports, curtain tracks, ceiling and wall-mounted medical equipment, nurse call systems, and the wiring and ductwork necessary to keep everything running smoothly. In addition, slim-profile lighting is now used everywhere else in current hospitals.
To answer this, Visa Lighting designed Lenga to be as narrow as possible, weighing in at 3" wide and 4" in recessed depth.
Lenga's coextruded lens produces different optics for the two modes, ambient and exam. The slim form and precise optics allow Ambient mode to use both sides of each unit, while Exam mode emits asymmetrically from the outer edge to directly illuminate the patient bed without shadowing.
Specifiers can order Lenga with white LED sources or with tunable sources for circadian lighting. This fall, they will also be able to order Lenga as a ligature- and impact-resistant luminaire for behavioral health environments.
To view spec sheets and more information, please visit Lenga's product page.
About Visa Lighting: Visa Lighting's mission is to forge bold, exceptional experiences through progression and creative collaboration. That's why their performance architectural lighting products are designed, manufactured and assembled by skilled craftspeople in Milwaukee, WI. Decades of manufacturing expertise qualify Visa Lighting to promote responsible innovations in lighting technology, creating opportunities to protect the natural environment while sustaining wellbeing in the built environment. Visa Lighting is an Oldenburg Group company.