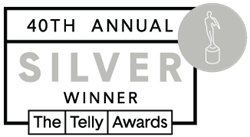 This is a great acknowledgment and nice recognition for our team given their hard work and innovation in the video production area...
SAN FRANCISCO (PRWEB) June 20, 2019
The Telly Awards have named Viscira as a Silver winner (the highest award possible) in the 40th Annual Telly Awards for the "Overreact2Stroke" videos produced by Viscira. The Telly Awards honor excellence in video and television across all screens and are judged by leaders from video platforms, television, streaming networks, and production companies including Vice, Vimeo, Hearst Digital Media, BuzzFeed, and A&E Networks.
Viscira partnered closely with Genentech to create three stroke symptomology videos for Genentech's Stroke Awareness website. The objective of the disease education videos was to educate caregivers about the 10 common stroke symptoms and to encourage caregivers to act quickly and decisively or even to overreact when they pick up on any signs or symptoms of a potential stroke. The videos reside on Genentech's Stroke Awareness website and were also deployed on Genentech's YouTube channel and distributed in the field by Genentech sales reps.
The Telly Awards were founded in 1979 and are the premier awards honoring outstanding local, regional, and cable TV commercials and programs, the finest video and film productions, and online commercials, video, and films. Winners represent the best work of the most respected advertising agencies, production companies, television stations, cable operators, and corporate video departments in the world.
This year also saw the continued expansion of new categories to further the awards' recent initiative to rebuild the honors for the multiscreen era. New categories included serialized Branded Content and expanded Social Video categories.
"Viscira is pushing the boundaries for video and television innovation and creativity at a time when the industry is rapidly changing," said Sabrina Dridje, Managing Director of the Telly Awards. "This award is a tribute to the talent and vision of its creators and a celebration of the diversity of work being made today for all screens."
Viscira's Executive Creative Director, Hagop Kaneboughazian, was excited to hear that Viscira had won another industry award. "This is a great acknowledgment and nice recognition for our team given their hard work and innovation in the video production area. We are really happy with how the videos turned out and glad it has been a very effective educational tool for our Genentech client," Kaneboughazian said.
About Viscira
Viscira is dedicated to the design and development of digital marketing solutions and interactive software applications for the life sciences industry. Viscira provides a suite of programs that integrate best-in-class technology to deliver engaging and memorable content via various electronic channels. Viscira is part of WPP, the largest agency holding company in the world. For more information, please visit the company's website at http://www.viscira.com or contact Noёl Ashekian at (617) 429-0834.