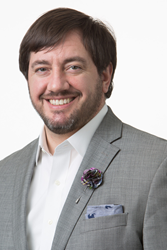 Colors are so vivid, and everything is crisp and clear! I have never seen as well as I do now, not even when I had a fresh pair of contacts.
Charlotte, NC (PRWEB) March 09, 2016
After wearing contact lenses for more than 25 years, Mecklenburg County Commissioner Matthew Ridenhour selected Dr. Jonathan Christenbury to restore his nearsightedness. In December, Commissioner Ridenhour underwent a Visian Implantable Collamer Lens (Visian ICL) procedure. He could not be happier with the experience of his newly restored vision and the expert assistance he received at Christenbury Eye Center. Visian ICL procedures are appropriate for patients with nearsightedness or myopia too severe to qualify for LASIK surgery.
The Visian ICL operates like an implantable contact lens, placed in front of the natural lens. Visian ICL implants are maintenance free. Candidates for this procedure may be too nearsighted or their corneas may be too thin for LASIK surgery. Also, compared to high LASIK correction, Visian ICL is recommended for better night vision and for military personnel.
"We only get one set of eyes, so I wanted the very best. Well, the very best is exactly what I got. From my initial consultation, through follow-up visits, I have experienced nothing short of the finest care imaginable," said Matthew Ridenhour, Mecklenburg County Commissioner. "On my way home the other night I actually called my wife and said, 'I just had to call you and tell you how well I can see! Colors are so vivid, and everything is crisp and clear!' I have never seen as well as I do now, not even when I had a fresh pair of contacts."
The FDA approved Visian ICL in 2005, and Dr. Christenbury was the first surgeon in North and South Carolina to perform these procedures. A FDA clinical trial in the US of 294 patients showed the following results:
⎯ Vision improvements for 99% of patients of 20/40 or better, good enough to no longer require glasses for driving.
⎯ 80% of patients achieved 20/20 vision or better.
⎯ 92% of patients in the study reported they were satisfied or extremely satisfied with their procedures.
Since FDA approval, 95% of patients receiving Visian ICL procedures at Christenbury Eye Center experience 20/20 vision or better.
"Every morning is a miracle; to be able to open my eyes and immediately see the world around me…the feeling is indescribable," says Commissioner Matthew Ridenhour.
To learn more about laser vision correction and Visian ICL procedures, visit the Christenbury Eye Center website or call them at (877) 702-2020.
About the Christenbury Eye Center
Dr. Jonathan Christenbury established Christenbury Eye Center in 1987 and is known for his groundbreaking work in vision care. For two decades he has consistently been one of the first surgeons in the Carolinas to perform many pioneering vision care procedures including LASIK, Visian ICL and TECNIS.
Dr. Christenbury performed the first LASIK procedure in the Carolinas in the early 1990s and since that time has performed more than 100,000 laser vision correction procedures. He performed the first WaveFront Customized IntraLASIK in the Carolinas in 2005. In the Spring of 2005, he was the first in the Carolinas to perform the ReSTOR procedure that treats Presbyopia and can eliminate reading glasses and bifocals. Today, Dr. Christenbury is the most experienced multifocal implant surgeon in the United States.
Dr. Kenneth Mathys is a Board-Certified, fellowship-trained Cornea and Refractive surgeon. He earned his medical degree at Case Western Reserve University. He completed an ophthalmology residency at the University of North Carolina at Chapel Hill where he was honored with the position of Chief Resident. Upon completion of residency, Dr. Mathys continued his ophthalmic training as a Cornea and Refractive surgical fellow at Piedmont Hospital in Atlanta, GA. Dr. Mathys is a member of the American Academy of Ophthalmology and the American Society of Cataract and Refractive Surgery.