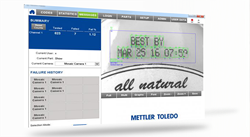 The centerpiece of the new software ... is the Dot Print tool, [which] accurately reads characters printed using discrete dots (i.e., dot matrix printing).
(PRWEB) March 28, 2017
METTLER TOLEDO is pleased to release the latest version of its CIVCore software, featuring WestPack Innovation Award 2017-winning Dot Print tool. While the Dot Print tool's introduction is the centerpiece of this release, giving manufacturers a reliable method for inspection of inkjet and other dot matrix-style print, there are several other features which help to improve CIVCore's flexibility and user-friendliness.
One important change for the new version is the support of different hardware configurations, allowing METTLER TOLEDO to offer an increased range of configuration options. This also makes it easier to upgrade older vision systems.
Another improvement is the merging of the client and server applications for CIVCore into a single application. This has resulted in significant speed increases on all systems, but particularly in systems using METTLER TOLEDO Mosaic inspection technology. An added benefit of this unification is simpler logging and error handling, which makes diagnosing problems much easier.
The centerpiece of the new software, however, is the Dot Print tool. The dot print tool accurately reads characters which have been printed using discrete dots (i.e., dot matrix printing). This tool is specifically meant to help manufacturers verify the accuracy and quality of inkjet printing systems used to apply variable information such as the expiration date on food. The Dot Print tool's ability to compensate for distortion due to movement on the production line or uneven surfaces makes it far more accurate than past attempts, and multi-line reading capabilities allows CIVCore to quickly process images and keep up with rapid production speeds.
About METTLER TOLEDO
METTLER TOLEDO CI-Vision is a wholly owned subsidiary of Mettler-Toledo Inc., a global supplier of precision instruments with sales and service locations in 37 countries. The METTLER TOLEDO Product Inspection Group, consisting of CI-Vision, Hi-Speed and Safeline, is the world's leading supplier of in-line checkweighers, metal detectors, machine vision systems and x-ray inspection systems. Industries including food, beverage, pharmaceutical, nutraceutical, personal care, plastics and chemicals use our solutions to continuously improve the quality of their products and improve the efficiency of their manufacturing and packaging processes.
For general information on Mettler-Toledo Product Inspection, visit: http://www.mt.com/pi