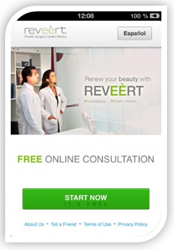 Empowered by digital technology, we are able to take a more proactive role in the medical tourism industry.
Los Angeles, CA (PRWEB) March 18, 2014
Collaborators at VisitandCare.com have developed an innovative mobile app that gives patients access to free plastic surgery and hair transplant consultations. The Reveert Online Consultation App is a resourceful tool to manage your health with a simple touch. Since its launch, the company has seen a 60 percent increase in patients seeking plastic surgery treatments.
The launch is VisitandCare.com's first mobile app, and the newest product in a growing collection of marketing tools designed to enhance the patient-doctor experience. It will allow patients to have unprecedented access to Reveert doctors and interact in the realms of technically advanced media.
"We created the app with a passionate, energetic drive to fuse together technology and medicine and deliver an innovative application into the growing digital health movement," stated Rami Jegham, Developer of the Reveert app.
The app was developed with a responsive design that formats perfectly on tablet or iPhone screens. Patients are able to fill out a short form, select their desired treatment, upload four photos of their desired treatment area, and receive a online consultation at no cost through the application.
Renew Your Beauty —
Reveert Plastic Surgery Center in Mexico believes that everyone has the right to look and feel their best in order to lead a more positive and fulfilling lifestyle. Over the years, plastic surgery treatments have proven to have a profound impact on a person's self-esteem and quality of life.
The center employs the most advanced surgical and non-surgical techniques to ensure that patients receive the best possible results in the areas of the face, breasts, body and hair. The elite plastic surgeons at Reveert have a creative eye to help set free your inner beauty.
"Our new mobile application reduces unnecessary visits to our clinic, industrializes tasks and help patients gain access to valuable plastic surgery information and costs. Empowered by digital technology, we are able to take a more proactive role in the medical tourism industry," stated Dr. Alejandro Enriquez of Reveert.
Your consultation with world-renowned plastic surgeons, Dr. Alejandro Enriquez and Dr. Nashielli Torres, is delimited with a personalized touch and a compassionate approach to your entire plastic surgery experience.
The Future of Medical Apps —
There are apps to monitor and regulate nearly every aspect of your life. According to industry evaluations, 500 million smartphone users worldwide will be using a healthcare application by 2015. By 2018, 50 percent of the more than 3.4 billion smartphone and tablet users will have downloaded health applications.
Mobile health apps are changing the way doctors and patients approach healthcare. While medical apps are deemed to assist your doctor's routine — from databases about drugs and diseases to sophisticated blood pressure monitors, glucose levels or asthma symptoms — the real benefit is represented in the digital communication involved between doctors and patients.
VisitandCare.com is using technology to reach a larger audience in the medical tourism industry, and facilitate a digital transition — while improving the quality of patient lives. The app is providing patients an easy way to organize and track plastic surgery information, receive quotes and enable interaction with the doctors at Reveert. Available in English and Spanish, the application is available at the Apple store for iPhone, as well as the iPad.
About VisitandCare.com
VisitandCare.com was created to give individuals worldwide valued direction locating a doctor, obtain free medical treatment quotes, and uncover affordable medical treatments at destinations of their choice. Improving Patients Lives | The company provides access to exclusive doctors and hospitals who specialize in infertility, plastic surgery, cosmetic dentistry, laser eye surgery, orthopedic surgery, hair transplantation, weight loss surgery, heart surgery and cancer care. Patients are matched with devoted multilingual patient facilitators and provided tangible connections to doctors worldwide. Promoting Your Healthcare Brand | For the ultimate connection between the healthcare industry and patients worldwide, the company delivers an unrivaled commitment to create sustained value for medical partners. Contact VisitandCare.com to see if you are eligible to become a partner of the exclusive network.