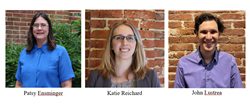 FREDERICK, Md. (PRWEB) December 22, 2022
The final weeks of 2022 have seen several important staffing changes at Visit Frederick. The end of the year will mark the retirement of longtime Operations Director Patsy Ensminger after more than 20 years with Visit Frederick. Ensminger started working with the organization in January 2001.
Ensminger has facilitated the Tourism Reinvestment in Promotion and Product (TRIPP) program since its inception in 2006, a program that has distributed millions of dollars in funds to Frederick County non-profit organizations and government agencies. She also serves as a coordinator for Frederick's popular "Tuba Christmas" program, an event she and her family brought to Frederick in 2002.
"Patsy has not only been an essential part of the Visit Frederick team, but an integral part of the community in Frederick County," said Dave Ziedelis, Executive Director of Visit Frederick. "We thank Patsy for her service here and wish her all the best in her retirement."
Katie Reichard steps into the role of Operations Director. Reichard has served as Visitor Services Manager since March 2019. The Operations Director oversees the operation and maintenance of the Frederick Visitor Center, where Visit Frederick welcomes more than 25,000 visitors each year, and facilitates the TRIPP and Maryland Main Street programs for Frederick County.
In November, John Lustrea joined the staff of Visit Frederick as the new Visitor Services Manager. Lustrea previously worked at the National Museum of Civil War Medicine in Downtown Frederick, where he served as Director of Education. The Visitor Services Manager ensures the Frederick Visitor Center is staffed and personnel are trained to provide exceptional visitor services and experiences for visitors and potential visitors.
"We are thrilled to welcome John Lustrea to the staff here at the Frederick Visitor Center," Ziedelis said. "In their new roles, Katie and John will play an essential part in serving community organizations and businesses and the millions of visitors who come to Frederick County each year."
Visit Frederick is the recognized Destination Marketing Organization for Frederick City and Frederick County, Maryland. It operates the Frederick Visitor Center and related Visit Frederick programs that include Destination Marketing and Group Tour Marketing. For more information about Visit Frederick, visit http://www.visitfrederick.org or call 301-600-4047.