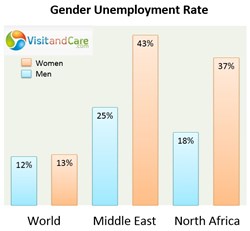 We are pleased to provide a deserving population with meaningful and sustainable employment.
Chicago, IL (PRWEB) January 21, 2014
With a commitment and dedication to education — and an impressive standing of knowledge and expertise in many areas of studies, Tunisian women put themselves in a position to acquire strong workplace endeavors.
But over the years, these hard-working women have fallen victim to immense unemployment rates.
With a profound impact on the medical tourism industry, VisitandCare.com not only recognized the valuable talent and impeccable work ethics of Tunisian women, but set out to help them fight off the massive level of employment uncertainties.
Tunisian women bring an impeccable amount of endowments to the company's global initiative, including multilingual expertise to reach the Arabic, French, and English-speaking markets.
"We are pleased to provide this deserving population with meaningful and sustainable employment," stated Tolga Umar, CEO of VisitandCare.com. "The addition of these highly-educated women have helped us to achieve growth in all of our healthcare regions."
Encouraging Employment for Women —
The unemployment rates in Tunisia have been deemed an insoluble problem that has shown very few signs of improvement.
With 70 percent of men in Tunisia joining the workforce, only 27 percent of women have been employed.
This substantial lack of hiring is not only hindering the careers of Tunisian women, but also a greater impediment — the progression of a country.
''The Arabic Spring was the name given to the Arabic revolution including Tunisia. It was intended to solve the problems of the economic situation specifically the unemployment for women. What happened is that it has only aggravated the situation,'' stated Abir Dhahbi, Human Resources and B2B Relations Manager at VisitandCare.com. ''Thanks to VisitandCare.com Tunisia, we're establishing great collaborations with doctor's worldwide while helping people's lives. I think this can only bring the real 'spring' to the Tunisian economy and for Tunisian women.''
Fueling Job Growth —
In 2012, 6 percent of VisitandCare.com employees were Tunisian. Today, the company is proud to announce that Tunisian's make up 60 percent of their dynamic workforce.
"I believe Tunisian women have more to say about themselves; they are polyvalent, committed and well educated. I think they are a good investment," stated Maha Issawi, Patient Facilitator Manager at VisitandCare.com.
Having added several Tunisian women to its team of patient coordinators, and translations team — the company forecasts a growth spurt of 20 percent moving ahead in 2014. The medical tourism giant plans on adding IT programmers, patient facilitators and a business development group.
Rooted in compassion and driven by innovation, the company is inspiring the next generation to embrace life and learning.
About VisitandCare.com
VisitandCare.com was created to give individuals worldwide valued direction locating a doctor, obtain free medical treatment quotes, and uncover affordable medical treatments at destinations of their choice.
Improving Patients Lives |The company provides access to exclusive doctors and hospitals who specialize in infertility, plastic surgery, cosmetic dentistry, laser eye surgery, orthopedic surgery, hair transplantation, weight loss surgery, heart surgery and cancer care. Patients are matched with devoted multilingual patient facilitators and provided tangible connections to doctors worldwide.
Promoting Your Healthcare Brand | For the ultimate connection between the healthcare industry and patients worldwide, the company delivers an unrivaled commitment to create sustained value for medical partners. Contact VisitandCare.com to see if you are eligible to become a partner of the exclusive network.